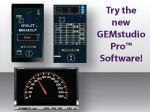 Campbell, CA (PRWEB) October 16, 2013
Amulet Technologies, a recognized leader in graphical user interface (GUI) solutions for embedded systems, today announced a significant update to its GEMstudioTM software suite. GEMstudio Pro™, which is available for immediate download, adds a number of substantial features to enhance the visual representation of the human machine interface (HMI). Along with the visual enhancements, a simple, yet powerful scripting language called GEMscriptTM is being introduced. The programming capability of GEMscriptTM provides direct control over graphic primitives and adds the capability for data computation and analysis.
"We've been very successful with GEMstudioTM by offering a simple to use, drag-and-drop type design environment that also brings you professional level graphics," said Paul Indaco, CEO and President of Amulet Technologies. "Now with GEMstudio ProTM, we've added a major feature in the form of a scripting language called GEMscriptTM, which will enhance control and aesthetics of embedded products".
Major features included with GEMstudio Pro™ are:

GEMscript™
Nested Pages
GEMplayer™ true color representation
Custom Bezel Simulator
Off-Screen Touch Area
Radial Dial Capabilities
Rotating Screens
The new features in GEMstudio Pro™ support greater customization of GUI designs as well as easier implementation and quicker changes. Customers now have the ability to realize their vision in less time with fewer limitations to their creativity.
About Amulet Technologies
As a recognized leader in high-performance embedded graphical user interface solutions, Amulet enables product designers to easily achieve smartphone-like interfaces on new and existing microcontroller based products. Amulet's innovative GUI development tools reduce development time down to days or weeks, instead of months, or years. This allows for the many design iterations that are required to create the most dynamic user experience possible. Amulet's Graphical OS™ includes a set of behaviors and functions that eliminate the need for expensive graphic libraries and tedious programming. Amulet's production solutions include fully-integrated modules, controller boards and chips which can be implemented in a wide range of applications. Visit Amulet Technologies online at http://www.AmuletTechnologies.com.