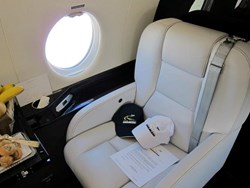 Los Angeles, CA (PRWEB) October 16, 2013
In an effort to raise the bar for its most discerning clients, worldwide air charter firm The Early Air Way has launched a new service to enhance the in-flight experience for passengers on select flights on heavy cabin aircraft, the largest size jets the company offers.
A current drawback to chartering private jets as opposed to purchasing your own is personnel recognition onboard the aircraft. Charter companies such as The Early Air Way are able to provide stellar pricing and logistical coverage for flights by utilizing a large pool of privately owned aircraft to cover clients' flights. Because of this, passengers will seldom see the same flight crew twice. The Early Air Way has solved this, however.
For passengers chartering heavy cabin aircraft such as a Gulfstream G550 or Bombardier Global Express, clients now have the option to enroll in The Early Air Way's "Premium Cabin Management" program. Through this program, passengers will be assigned a personal flight attendant that will be interchangeable across flights arranged through the company, worldwide. With this program, a client can fly a GIV from Los Angeles to New York one day, and benefit from an empty leg on a G550 from Houston to Tokyo two weeks later, all the while being served by the same cabin attendant that already knows exactly what makes them happy.
"The Premium Cabin Management program is a breakthrough for a niche but large group of clients that really want a personal and predictable experience in the air," explains CEO Alex Early.
The Premium Cabin Management program is only offered to passengers on heavy jet aircraft, and is an optional service that costs extra. For those who want the cost benefits of chartering aircraft but want to feel as though they own the aircraft however, Premium Cabin Management by The Early Air Way is the way to go.
About The Early Air Way
The Early Air Way is a nationwide private jet charter brokerage firm founded in 2007. Based in Los Angeles, CA, the company specializes in any flight within, to, and from the United States. The Early Air Way utilizes proprietary means to track inventory of over 5,000 privately owned part 135 aircraft across the world in order to minimize cost due to superior logistical efficiency. Their mission is to provide the highest quality of private jet charter services, at a fair price, while providing honest and knowledgeable guidance to their clientele. The Early Air Way's clients include members of the Fortune 500, heads of state, government entities, celebrities, and many frequent jetsetters.