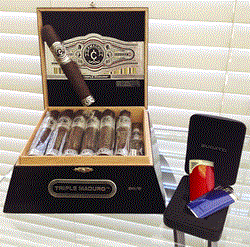 ...the Deal of the Week will offer deeply discounted cigars or cigar accessories.
Miami, FL (PRWEB) October 16, 2013
Gotham Cigars is now offering their customers a new weekly cigar deal. The deals selected for the Deal of the Week will be deeply discounted cigars or cigar accessories, and sometimes they may be a closeout discounted offer, so they may have a limited stock. To get an idea of how great these cigar deals are going to be, Gotham Cigars launched their first incredible deal which offers a Bugatti Cigar Lighter for $39.99 which is a savings of $95.01 and a Camacho Triple Maduro Cigar Box for only $99.00 which is a savings of $185.55. These two deals offer an unbelievable amount of savings to customers, but they are only available for a week and there is a limited quantity in stock, so cigar smokers should act fast.
Since Camacho cigars are revamping their Triple Maduro blend, Gotham Cigars decided to purchase their entire stock of inventory and offer their customers the last chance to get these great cigars. The Camacho Triple Maduro Box has a retail price of $284.55 but with the Deal of the Week offered at Gotham Cigars, they are available to customers for only $99.00. Gotham Cigars only has a limited amount of the Camacho Triple Maduro cigars in stock, and at a savings of $185.55 per box, they are going to go fast. The second offer available with Gotham's Deal of the Week is the Bugatti Cigar Lighter available for $39.99 that's a $95.01 savings. The Bugatti Lighter normally sells for $135.00 and is available in Blue or Red, but for this week only, with Gotham's Deal of the Week customers can add the luxurious Bugatti brand to their cigar collection at a deeply discounted price. Both of the offers in this week's Deal of the Week have only a limited stock available, so when they are gone, they're gone.
Deal of the Week offers will be changed at the end of every Friday and will be posted on Gotham Cigar's home page in a box on the top right side of the page and it will offer customers an even bigger discount on their products than their already low prices. Keep in mind that these may be the best cigar deals so they could sell out quickly, so be sure to place your order right away. All Gotham Cigars customers have already been auto subscribed to receive the weekly emails containing the Deal of the Week, if you would like to receive emails regarding Gotham Cigars Deal of the Week click here.
Gotham Cigars offers customers one of the country's largest and freshest selections of premium cigars, Machine Made Cigars, Filtered Cigars and Humidors. Gotham Cigars has received five-star ratings by the most trusted online comparison websites for its huge selection, fast shipping and great customer service; Gotham Cigars has become a favored destination for buying cigars and accessories online in the US. All of their products have been thoroughly inspected by their manufacturers prior to arriving at the facility to ensure the highest quality for their customers. To learn more, visit http://www.gothamcigars.com.