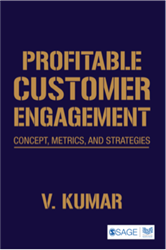 Across the five firms that Dr. Kumar studied, between 10% to 35% of the customers who cross-buy were unprofitable.
Atlanta, Georgia (PRWEB) October 16, 2013
Big Cloud Analytics Inc.'s Chief Scientist, Dr. V Kumar PhD (VK) announces the release of his latest book, PROFITABLE CUSTOMER ENGAGEMENT, coming this fall from Sage Publishing. As part of his work on Customer Engagement Value, VK highlights key findings in this book regarding a recent study of customer cross-buying behavior that will cause business leaders to rethink their sales and marketing policies.
In this big data and analytics study, Dr. Kumar discovered that customer cross-buy is not necessarily profitable for all customers and can adversely impact a firm's bottom line. Across the five firms that Dr. Kumar studied, between 10% to 35% of the customers who cross-buy were unprofitable. Additionally, these customers accounted for 39% to 88% of profits lost from the firms' bottom lines.
The study also revealed that persistent adverse customer behavior (such as repeatedly spending a limited amount with the firm, excessively returning previously purchased products, persistently demanding a higher level of customer services, and selectively buying products that are steeply discounted) drives unprofitable customer cross-buying over time, customers who exhibited such persistent adverse behavioral traits typically generated more losses with each of the additional products and/or services from the firm over time. However, customers with non-persistent adverse behavioral traits tend to eliminate their initial losses (if any) and generate more profits with an increase in cross-buy over time.
These findings have key implications for companies. First, apart from drawing our attention to positive consequences of cross-buying behavior, they also highlight the negative consequences of customer cross-buy – an area that has received minimal attention in marketing literature to date. Second, the findings call for managers to rethink their current managerial practices of maximizing cross-buy opportunities for all customers of the firm. This is imperative given the fact that firms typically hope to increase profits by encouraging customers to cross-buy and thereby engage more with them.
"As we have come to expect, VK has returned "tour-de-force" fashion to provide us marketing practitioners our equivalent of Grand Unified Theory. In this latest work Profitable Customer Engagement, he links a customer's individual value with their referrals, influence and knowledge and ties that to the effects on brand and shareholder value. This provides a holistic framework that can be applied at the center of your marketing strategy," states J Patrick Bewley, CEO of Big Cloud Analytics, Inc.
In this book, Dr. Kumar takes his work in Customer Lifetime Value to the next level, providing even greater accuracy and predictive power. VK then expanded on this substratum with his more recent scientific works, allowing us to understand and accurately measure the new phenomenon of influencers and referrals in a way that links to the bottom line. The addition of "Customer Influence Value" and the significant evolution of "Customer Referral Value" provide the mechanics to accurately quantify word-of-mouth efforts.
"My work on Profitable Customer Engagement leverages the research that I pioneered with my team to bring value and measurability to social media," Commented Dr. V Kumar PhD, one of the top 5 marketing scholars in the world and Chief Scientist of Big Cloud Analytics, Inc. "In addition, we included the approaches and methods that won the 2010 Google-WPP Research competition for an algorithm to value social media influencer value."
About BIG Cloud Analytics
BIG Cloud Analytics is a global thought leader in marketing science. The company provides technology enabled real-time marketing predictions based on world-renowned science from one of the top five marketing scholars in the world and its proprietary COVALANCE(TM) modeling approach. Big Cloud serves the Financial Services, Retail, Consumer Packaged Goods, Media and Publishing, Telecommunications, and Airline industries.
About Dr. V. Kumar Ph.D., Chief Scientific Officer of Big Cloud Analytics
Dr. V. Kumar (VK) has a Ph.D. in Marketing with specialization in Quantitative Analysis from the University of Texas at Austin. VK has been recognized with seven lifetime achievement awards in Marketing Strategy, Inter-Organizational Issues, Retailing, Business to Business Marketing, and Marketing Research from the AMA and other professional organizations, the Paul D Converse Award, the Sheth Foundation/Journal of Marketing Long term Impact Award, and the Gary L Lilien ISMS-MSI Practice Prize Award. He has published over 200 articles in many scholarly journals in marketing including the Harvard Business Review, Sloan Management Review, Journal of Marketing, Journal of Marketing Research, Marketing Science, Management Science and Operations Research. His books include Managing Customers for Profit, Customer Relationship Management (CRM), Customer Lifetime Value, Marketing Research, Statistical Methods in CRM, and International Marketing Research. He has won several awards for his research publications in scholarly journals. VK leads the marketing science to marketing practice initiative at the ISMS and has worked with Global Fortune 1000 firms to maximize their profits. Finally, VK has been chosen as a Legend in Marketing where Dr. Kumar's work is published in a 10-volume encyclopedia with commentaries from scholars worldwide.
About J. Patrick Bewley, Chairman and CEO
Prior to the launch of Big Cloud Analytics, J Patrick (JP) Bewley was the CEO of e-commerce company Bridgevine, ranked by INC 500|5000 as one of America's fastest growing companies. Under JP's leadership, Bridgevine was recognized for the sixth consecutive year on the INC list. He led the company to 49% topline growth and 80% EBITDA growth. Before Bridgevine, Bewley built the top marketing strategy practice in the world at big data pioneer Acxiom. In just five years, they built the business from start-up to $319 Million in booked revenues with operations in 14 countries. Bewley is an alumnus of Harvard Business School and the Massachusetts Institute of Technology's Entrepreneur Center.
Big Cloud Analytics is a trademark of Big Cloud Analytics, Inc.