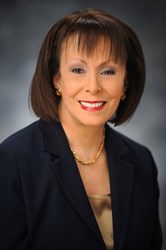 Pittsburgh, PA (PRWEB) October 16, 2013
Clayton Kendall, Inc. and its President, Regina Broudy, have been selected as finalists for the 2013 Stevie Awards in the Business Services category for Company of the Year and Female Entrepreneur of the Year.
The Stevie Awards for Women in Business honor women executives, entrepreneurs, employees and the companies they run – worldwide. The Stevie Awards have been hailed as the world's premier business awards.
Gold, Silver, and Bronze Stevie Award winners will be announced during a gala event at the Marriott Marquis Hotel in New York on Friday, November 8. Nominated women executives and entrepreneurs from the U.S.A. and several other countries are expected to attend. More than 1,200 entries were submitted this year for consideration in more than 90 categories.
As President of Clayton Kendall, Regina's dynamic leadership has grown the company into the largest branded merchandise distributor in Pennsylvania. Being a family-owned business, Broudy has created a culture that combines collaboration, hard work, innovation, and enthusiasm.
The company's experienced management team, talented employees, unmatched technology, and proven 360 Degree Branded Merchandise Process, ensure companies get the products they need, when and where they need them. There are three divisions of the company: Clayton Kendall Programs help companies manage their brand, control cost, and streamline the ordering of their promotional products, custom apparel, and printed materials. rushIMPRINT is the online retail division that is designed for customers who need branded promotional items in a rush. All Safety Gear is designed for those that need high-quality work apparel and personal protective equipment (PPE).
"It's truly an honor to be recognized by the Stevie Awards and to be associated with such an impressive group of successful women," said Broudy. "I take great pride in this company, and I am grateful that we continue to grow every year."
Finalists were chosen by more than 140 business professionals worldwide during preliminary judging. More than 90 members of the five final judging committees will determine the Gold, Silver, and Bronze Stevie Award placements from among the Finalists during final judging.
"For 10 years we have been recognizing the achievements of women in business, and this year's nominations were the most impressive class the judges have ever reviewed," said Michael Gallagher, founder and president of the Stevie Awards. "We look forward to seeing the final judges' decisions and honoring this year's Stevie winners in New York next month."
Details about the Stevie Awards for Women in Business and the list of Finalists in all categories are available at http://www.StevieAwards.com/Women.
About Clayton Kendall, Inc.
Clayton Kendall provides businesses with customized branded merchandise programs to help them better manage their promotional products, decorated apparel, and printed materials. The company specializes in tailoring each program to meet the unique needs of its customers throughout the United States and in Canada. Clayton Kendall's service offering includes graphic design, product selection and sourcing, customized online ordering systems, printing services, distribution and fulfillment services, and program management.
Clayton Kendall is a privately held company headquartered in Monroeville, Pennsylvania. The company is certified by the nationally recognized non-profit National Women Business Owners Corporation (NWBOC) and Women's Business Enterprise National Council (WBENC) as a Women Business Enterprise (WBE). For more information, visit http://www.claytonkendall.com.
About The Stevie Awards
Stevie Awards are conferred in five programs: the Asia-Pacific Stevie Awards, The American Business Awards, The International Business Awards, the Stevie Awards for Women in Business, and the Stevie Awards for Sales & Customer Service. Honoring organizations of all types and sizes and the people behind them, the Stevies recognize outstanding performances in the workplace worldwide. Learn more about the Stevie Awards at http://www.StevieAwards.com.