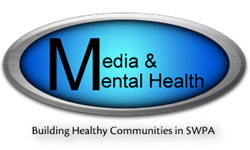 We are elevating the national conversation on behavioral and mental health through authentic reporting in local news media. This SWPA movement will serve as a national model that can be replicated in other communities across the country.--Brian Dyak, EIC
Pittsburgh, PA (PRWEB) October 16, 2013
Southwestern Pennsylvania media is leading the movement for building healthier communities through authentic, compelling and inspiring journalism. This year, nearly 60 informative stories of hope and perseverance were submitted. The annual SWPA Media & Mental Health Awards, produced by the Entertainment Industries Council, Inc. (EIC) in collaboration with The Staunton Farm Foundation, honor the works of media professionals who accurately report on mental and behavioral health issues within television, radio, print and online media in Southwestern Pennsylvania. The ceremony, featuring keynote speaker Brian Cuban, will take place at the Senator John Heinz History Center in Pittsburgh on October 24, 2013 at 6:00 p.m. The Pittsburgh Post-Gazette, Pittsburgh Tribune-Review, WPXI-TV, WTAE-TV, KDKA-TV, WQED Multimedia, and Human Services Center are among the nominees for the 3rd Annual SWPA Media and Mental Health Awards.
Keynote Speaker:
Brian Cuban
Lawyer, Activist, Talk Show Host, Author of "Shattered Image," and Pittsburgh native, will discuss his personal and inspiring triumph over addiction, clinical depression, and eating disorders linked to his diagnosis of Body Dysmorphic Disorder (BDD) and how the media can play an important role in elevating the behavioral health conversation.
Featured Speakers:
Former U.S. Congressional Representative for Pennsylvania's 4th District and KDKA-TV broadcast veteran, Ronald "Ron" Klink
Journalist, Publisher, and Director of Communications for People for Peduto, Sonya Toler
Presenters include:
Decorated journalist and Principal at FosterHyland and Associates Sheila Hyland
Award-winning WTAE News Anchor and Sports Director Andrew Stockey
Retired KQV News Director Frank Gottlieb, a veteran distinguished broadcaster with experience in radio, TV and cable.
"We are elevating the national conversation on behavioral and mental health through authentic reporting in local news media. This SWPA movement will serve as a national model that can be replicated in other communities across the country," said Brian Dyak, President & CEO of the Entertainment Industries Council, Inc. "We appreciate the talent of reporters who value accuracy, craft stories that inform, make us think, and move our hearts."
Supporting EIC and the Media and Mental Health initiative in SWPA, Joni Schwager, Executive Director of The Staunton Farm Foundation, stated, "we are proud to continue our work in collaboration with the Entertainment Industries Council on this recognition event and on other forums designed to support accurate reporting all year long. The engaging, inspirational, and accurate stories reported through the art of journalism help us advance the conversation on the importance of behavioral health in the community."
The nominees that follow for the 3rd Annual SWPA Media & Mental Health Awards were selected by a committee of local Pittsburgh media professionals and experts from the fields of medicine and mental health. The honorees will be announced at the ceremony on October 24, 2013 at the Senator John Heinz Center.
Newspaper Story or Article:
Pittsburgh Post-Gazette, After suicide: All that's left is 'why?', by Michael A. Fuoco
Pittsburgh Tribune-Review, In Sandy Hook wake, mental health and guns intersect again, by Chris Togneri
Pittsburgh Post-Gazette, Feds investigate treatment of mental health inmates at Cresson state prison, by Karen Langley
Pittsburgh Post-Gazette, Western Psych shooting rampage prompts changes, by Michael A. Fuoco and Jonathan D. Silver
Pittsburgh Tribune-Review, Wounded Heroes Hunting Camp near Altoona pairs vets, disabled children, by Chris Togneri
Newspaper Op Ed:
Pittsburgh Post-Gazette, In Rebuttal/Disserving those on disability: The mentally ill need services; they are not 'gaming the system', by Christine Michaels
Newspaper Enterprise/Investigative:
Pittsburgh Post-Gazette, Mysteries of the Mind: Schizophrenia, by Mark Roth
TV Spot/Breaking News:
KDKA-TV Family Of Grandson Accused In Fatal Stabbing Speaks About Mental Illness, by John Shumway
WTAE-TV Don't Say 'This Can't Happen to My Kid' Mother Urges in Wake of Sons Overdose, by Ashlie Hardway
WPXI-TV Gateway Center Hostage, by Channel 11 News Staff, News Director: Mike Oliveira
TV Community Affairs Program:
WQED Multimedia Rose's Garden: Surviving My Mother's Mental Illness, by Beth Dolinar - Reporter/Producer/Writer, David Cohen - Editor, Walt Francis, Bob Lubomski, Frank Caloiero - Photographers
WQED Multimedia, Gun Violence: The Voices, by Tonia Caruso - Reporter/Producer/Writer, Paul Ruggieri - Editor, Bob Lubomski – Photographer
WPXI-TV, The Effect of Violence and PTSD on Children, by Jonas Chaney - Writer/Editor/Producer, David Taynor - Director
TV Enterprise/Investigative Report:
WPXI-TV , The Psyche (Aftermath) of Violent Crimes, by Rick Earle - Reporter, Tim Holoman - Photographer/Editor, Mike Oliveira - News Director, Deb Gaita - Executive Producer
TV Feature Story:
WQED Multimedia, Mental Health and Poverty: Rising Above from Pittsburgh 360, by Michelle Wright - Reporter/Producer/Writer, Amy Grove - Editor, Bob Lubomski, Glenn Syska – Photographers
KDKA-TV, New Autism Care Rules Require Some to Pay for Once Free Services, by Dr. Maria Simbra
Internet Video Story:
Human Services Center, Recognizing the 50th Anniversary of the Human Services Center and the signing of the Community Mental Health Act, by Roger Smith - Writer, Chris DeVivo, FUEL - Director, Human Services Center - Producer, Chris DeVivo and Roger Smith - Editors , Media Post - Publisher, Robert Donaldson - Publishing Company
About Entertainment Industries Council
EIC, a non-profit organization, was founded in 1983 by leaders of the entertainment industry to bring the power of the industry to communication about health and social issues. The organization is considered to be the chief pioneer of entertainment advocacy outreach and one of the premiere success stories in the field of entertainment education and information resources for entertainment creators, through innovative and time-proven services and methods of "encouraging the art of making a difference" from within the entertainment industry. EIC also produces the simulcast national television special PRISM Awards Showcase which addresses accurate portrayals of substance abuse and mental illness: prevention treatment and recovery.
EIC's web site is http://www.eiconline.org. The PRISM Awards web site is http://www.prismawards.com.
About the Staunton Farm Foundation
The Staunton Farm Foundation is an organization dedicated to supporting mental health treatment and service for children, teens, and adults suffering from mental health/substance use disorders in Southwestern Pennsylvania. Originally founded in 1937 in accordance with the wishes expressed in Matilda Staunton Craig's will, the foundation has expanded to the 10 counties that comprise the southwestern region of Pennsylvania. The Foundation is committed to planning for a future where mental health/substance disorders are understood, accepted, and acknowledged as common treatable conditions, focusing on improving access to services for underserved populations, decriminalizing mental illness, and improving mental health in rural SWPA.