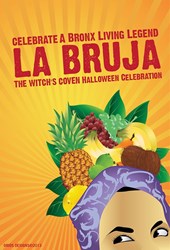 La Bruja joined the ranks of artists such as Mos Def who infuse acting and music with the power of spoken word.
Bronx, NY (PRWEB) October 17, 2013
Bronx native Caridad de la Luz, aka La Bruja, widely regarded as one of the foremost American spoken word poets, will perform a special concert at The Bronx Museum of the Arts on October 30. The concert is part of the Bronx Music Heritage Center's (BMHC) popular Bronx Living Legends series, which celebrates artists who are held in the highest regard by their musician peers and their community, and who have distinguished themselves as musicians, educators or advocates.
WHEN: Wednesday, October 30 at 7:00pm. Doors open at 6:30 pm.
WHERE: The Bronx Museum of the Arts
1040 Grand Concourse, Bronx, NY 10456
Directions: http://www.bronxmuseum.org/visit
TICKETS: Call 718.839.1196
$5 suggested donation to support BMHC programming
Whether singing on Telemundo, performing on HBO's "Russell Simmons Def Poetry Jam," or appearing in History Channel docudramas, modern day renaissance woman La Bruja refuses to be put in a box. Her unique creativity and charismatic performances have been sought around the world, and her humanitarian spirit has never faltered, facilitating writing workshops for inner-city youth, while performing internationally and even modeling for Levis in Glamour and Marie Claire.
Since her auspicious spoken-word debut at the famed Nuyorican Poet's Cafe in 1996, La Bruja has acted on stage and screen, and performed at countless respected venues from The Nuyorican Cafe in Puerto Rico and SOBs, to Joe's Pub at The Joseph Papp Public Theater and The American Museum of Natural History. With the release of albums such as "Brujalicious," "For Witch it Stands," and her critically acclaimed musical "Boogie Rican Blvd.," La Bruja joined the ranks of artists such as Mos Def who infuse acting and music with the power of spoken word.
La Bruja has recorded with popular and innovative artists including Fat Joe, Vivian Green, Jadakiss, Don Dinero, The Jungle Brothers, Black Ice, B-Real, Tony Touch, Afrikaa Bambaata, Chingo Bling, Hurricane G, Boy Wonder, The X-ecutioners and Dan Zanes. Her raw and empowering poetry has been published in several anthologies including Voices in First Person, We Got Issues, and Me No Habla with Acento.
Local food and art vendors will be selling their wares before the tribute and live concert begin.
The Bronx Living Legends series is curated by Angel R. Rodríquez, Sr., who developed the idea of celebrating Bronx music's unsung heroes. Since 1997, Rodriguez has led Living Legends in honoring over 40 Bronx musicians and he is currently a member of the BMHC Music Advisory Board. The BMHC has previously honored greats Andy Gonzalez (Latin bass player), Valerie Capers (jazz pianist), Eugene "Gene" Golden (Afro-Cuban percussionist), and Gilberto "Pulpo" Colon (Latin jazz pianist) as Bronx Living Legends.
This program is supported, in part, by public funds from the New York City Department of Cultural Affairs in partnership with the City Council. BMHC programming is also made possible with support from The Kresge Foundation, Deutsche Bank Americas Foundation, and The Rockefeller Foundation Cultural Innovation Fund.
About the Bronx Music Heritage Center
The Bronx Music Heritage Center (BMHC) celebrates the rich history and creative spirit that defines Bronx music, from jazz, salsa, R&B and hip hop to new sounds coming to life across the borough. Founded by the Women's Housing and Economic Development Corporation (WHEDco), the BMHC is committed to preserving and promoting Bronx music, cultivating Bronx artists, spurring neighborhood revival, and providing free cultural programs for the community. The BMHC presents performances and other events at the storefront BMHC Lab in Crotona Park East, and at venues across the Bronx. For more information about the BMHC, please contact info(at)bronxmusic(dot)org or visit bronxmusic.org.
About WHEDco
The Women's Housing and Economic Development Corporation (WHEDco) has worked for over twenty years to build a more beautiful, equitable and economically vibrant Bronx. WHEDco reaches over 35,000 people annually through energy-efficient, healthy and affordable homes; early childhood education and youth development; home-based childcare microenterprise and food business incubation; family support services; and arts programming. To learn more, visit WHEDco.org.