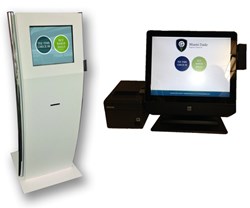 Golf TeeBox now can fit the needs of every client
Miami, FL (PRWEB) October 21, 2013
Golf tech startup company GrintSolutions is excited to provide golf shops with two unique options for Golf Check in Kiosks that will fit the needs of any pro shop. With a full-size, stand-alone unit, along with a desktop version, shop owners and managers can choose the design that meets their needs and blends in seamlessly with the rest of the space. Either one of these kiosks can complete the task of allowing golfers to pay for their tee times, purchase additional items, and get in and out of the shop in just a minute or less.
For courses that choose the stand-alone unit, they will receive a sleek and modern kiosk that stands at a comfortable height for all golfers to use. The touchscreen technology is intuitive and easy to manage even for those with limited computer savvy. Not only does the Golf Kiosks save time and make for a better overall experience, it also adds a focal point for the design of the pro shop.
In a setting where space is at a premium, a desktop model is the perfect choice. This model is similar in size to the handicap computers that are found in all pro shops, and it can be placed on a desk or counter anywhere within the space. This kiosk provides all of the same functionality as the full size version, only it takes up less space and maintains all of the floor space for merchandise displays.
To learn more about these exciting options for pro shop technology integration, visit GolfTeeBox.com or write to sales(at)grintsolutions(dot)com.