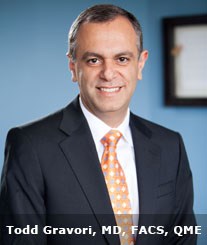 Minimally invasive and laser spine procedures can produce significant, life-altering results
Los Angeles, CA (PRWEB) October 17, 2013
Todd Gravori, MD, FACS, QME, is proud to announce the launch of his new website, http://www.ProMedSpine.com, which is aimed at providing patients with the most up-to-date knowledge of various spinal and neurological conditions and treatments. As Dr. Gravori describes, the user-friendly site will provide easily accessible access for patients in search of the best treatment for them.
"Spinal conditions and discomfort are actually quite common and can be very disruptive. The new website was designed to bring in-depth information to patients afflicted with various spinal and neurological disorders so that a custom treatment plan can be developed uniquely for them," said Dr. Gravori.
With the launch of the new website, Dr. Gravori hopes to share his more than 20 years of education and experience with individuals suffering from pervasive spinal and neurological disorders including disc herniations, spine and brain tumors, and peripheral nerve disorders. Dr. Gravori adamantly believes that intrusive spinal surgery should only be used as a last resort for the most severe cases. Instead, Dr. Gravori supports the use of state-of-the-art technology and minimally invasive spinal procedures as cost effective, less disruptive solutions to chronic spinal pain and discomfort.
"Minimally invasive and laser spine procedures can produce significant, life-altering results. In many cases, more complex, expensive, and intrusive procedures are actually not necessary to treat spinal disorders," said Dr. Gravori.
Dr. Gravori believes in a comprehensive approach to treatment and pain management. In addition to expert, individualized patient care, Dr. Gravori provides patients with recommendations for other beneficial lifestyle changes aimed at improving their quality of life.
"My personal mission is to improve my patients' quality of life and always exceed expectations. In order to ensure tangible treatment options for anyone currently suffering from a debilitating spinal or neurological condition, our offices will gladly work with all insurance providers," says Dr. Gravori.
Dr. Gravori currently practices medicine from his boutique, southern California outpatient facilities located in Encino, Thousand Oaks, and Beverly Hills. At each of these locations, Dr. Gravori provides personalized, high-end patient care and education regarding various spine and neurological disorders. Dr. Gravori's unique outpatient facilities allow for individualized treatment in a safe, controlled environment. He offers a wide range of individualized procedures from microscopic and endoscopic surgeries, to zero profile implants, discectomy and spinal fusion.
To learn more about Dr. Gravori and his high-end outpatient facilities, visit the new website at http://www.ProMedSpine.com.