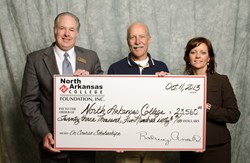 Harrison, Arkansas (PRWEB) October 16, 2013
More than $40,000 was raised for scholarships during the recent Three Person Scramble Golf Tournament hosted by the North Arkansas College Foundation and presented by Harness Roofing, Inc. at the Harrison Country Club. The annual event is the most successful tournament in the area, netting more than $145,000 since it began in 1999. This year, more than 125 golfers from Arkansas and Missouri played and bid on silent auction items to support the new "On-Course Scholarships."
For the first time, golf tourney funds will be awarded to students as motivation and a reward for progression. The office of Financial Aid stated 114 students enrolled full-time in January 2013, and re-enrolled for fall and spring 2014, and complete 24 hours with a 2.5 G.P.A. will receive a $225 On-Course Scholarship. Each qualifying student will receive a letter in September 2014, an explanation of the award, how it's funded, and why they are receiving the award.
Ironically, the concept of these "reward as you advance" scholarships was borne of Arkansas higher education performance funding measures enacted in 2011. According to the Arkansas Department of Higher Education, from the early 1990s to the present, Arkansas has experienced a more positive pattern of economic growth than the nation as a whole. Unfortunately, the state still lags significantly behind most Southern Regional Education Board states and the nation in degree-holders. Gov. Mike Beebe issued a challenge to residents, saying "We can and must double the number of college graduates in Arkansas by 2025 if we are to stay competitive. This is a lofty goal aimed at the future, but we must begin implementing it today."
State Senators Gilbert Baker and Johnny Key, and Representative Johnnie Roebuck sponsored Act 1203 of 2011 An Act to Promote Accountability and Efficiency at State-Supported Institutions of Higher Education; To Clarify Funding Formula Calculations for State-Supported Institutions of Higher Education. Act 1203 was enacted by the Arkansas General Assembly by 100 percent of the voting members and signed into law by Gov. Beebe April, 5, 2011.
Two-year colleges in Arkansas are funded based on the following measures: Remedial Course Success, Non-remedial Course Success, Progression, Certificates of Proficiency, Technical Certificates, Associate Degrees, Total Credentials, Low-Income, Under-prepared, STEM Credentials, High Demand Credentials, Workforce Training, Transfer, Adult Credentials, Minority Credentials and Employment. All institutions are measured each year on total credentials awarded, bachelor credentials awarded, STEM production and student progression. Forty percent of all performance funding is allocated to these four measures, with the remainder on optional measures selected by each institution. Each institution is measured against its own progress.
Northark uses the progression measure as the basis for the On-Course Completion Scholarships.
"It's such a pleasure to utilize support from friends of the college to provide a financial incentive for students as they reach higher and higher toward their educational and career goals" Dr. Jackie Elliott, president of Northark said of the scholarship. "Everyone on the course knows they are playing for more than winning the tournament. They are contributing to the success of our children, our spouses, our neighbors and everyone who changes their lives through education."
At its September board meeting North Arkansas College Trustees signed their names to a pledge to promote practices and strategies that will produce 50 percent more graduates with high-quality degrees and certificates by 2020.
The innovative scholarships use private donations to support achievement of key strategic objectives of the institution. It is expected more students progressing toward degrees and certificates will have a positive impact upon Student Success and Community Engagement which are the first two goals of Northark's Strategic Plan.
Key tournament sponsorship support included Arkansas Blue Cross & Blue Shield, Community First Bank, First National Bank of Green Forest, Harrison Daily Times, Hudson's Super Market, 102.9 The Z, Jerry Jackson Realty, McDonald's of Harrison, Pippin Wholesale, Shaker Beverage Shoppe, the Pepsi Beverage Company and White Oak Station Convenience Stores.
North Arkansas College's vision is to be a premier institution, achieving excellence through innovation, technology, continuous improvement, and quality instruction. The creation of scholarships to support academic achievements funded through the North Arkansas College Foundation is evidence that education continues to provide an excellent return on investment.
For more information about the North Arkansas College Foundation, visit http://www.northark.edu/foundation, or contact Dr. Rodney Arnold at rarnold@northark.edu.