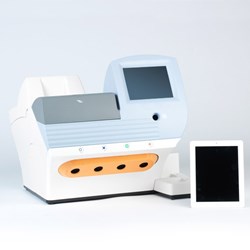 This enclosure really demonstrates what's possible with pressure forming, and how Ray Products has embraced technology to get here.
(PRWEB) October 15, 2013
A thermoformed medical device manufactured by Ray Products has been awarded 1st place in the "Heavy-Gauge, Pressure-Formed" category at the Society of Plastics Engineers (SPE) Thermoforming Division's annual parts competition.
The competition occurred during the SPE's 22nd Annual Thermoforming Conference. The entries were judged by SPE members during the conference.
"This award was given to us by our peers, and that means a lot," said Jason Middleton, Ray Product's vice president of sales and development. "It's validation that even our competitors respect the quality of the work we're doing."
The winning project was developed for a DNA sequencer about the size of a desktop printer. The medical device enclosure showcases the versatility of pressure forming as a process. Some of the enclosure's panels are fairly straightforward, while others incorporated complex shapes, undercut features, and deep draw features. These types of features can only be achieved by using CNC-machined aluminum cooled tooling, the type of tooling that Ray Products uses exclusively for pressure forming.
"Lots of people would look at this enclosure and think, 'that has to be injection-molded,'" said Middleton. "This enclosure really demonstrates what's possible with pressure forming, and how Ray Products has embraced technology to get here."
The original project only called for quantities of between 75 and 100 units per year. Pressure forming with Ray Products allowed the client to develop an aesthetically pleasing and RoHS compliant enclosure without the high tooling costs of injection molding. It also allowed them to bring their product to market months faster than an injection-molded enclosure would allow. In a rapidly evolving market like biotechnology, faster time to market is a significant competitive advantage.
The multi-part enclosure was pressure formed at Ray Products' ISO 9001:2008 certified manufacturing facility in Ontario, Calif. and used UL 94 V-0 flame rated material. After being pressure formed, each individual piece was trimmed by the company's fully automated 6-axis trimming robots.
"Our process and state of the art machinery allows us to deliver very high levels of repeatability and quality parts," said Middleton. "This means that even if the customer needed a replacement panel in 5 years, we can be confident that panel will be a perfect match with the original enclosure."
Maintaining exact tolerances was an important part of the process, critical to allowing the highly cosmetic multi-part enclosure's pieces to attach correctly every time.
After being trimmed, each part was painted and had EMI/RFI shielding applied at Ray Products' dedicated in-house painting facilities. Some parts were also silk-screened.
Ray Products worked with the engineering staff to incorporate assembly features that included undercuts and other built-in attachment mechanisms. As a result they were able to reduce the need for costly additional hardware along with the enclosure's overall assembly time and cost.
The award was announced on Sept. 10 during the SPE conference, which ran from Sept. 9 to 12.
"We're always proud of the work we do," said Middleton. "But there's something special about being recognized for making one of the top projects in the industry."
---
About Ray Products: Ray Products is a custom plastics manufacturer based in Ontario, California. Founded in 1949, the company is currently under its 3rd generation of family ownership. Ray Products operates a 48,000 square foot ISO 9001:2008 certified manufacturing facility that offers the largest thermoforming capabilities on the west coast, fully robotic 6-axis trimming and 3D coordinate measurement accurate to within a ten-thousandth of an inch.