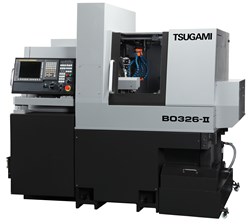 "Morris South offers a very diverse line of sophisticated CNC machines," Morris South President Kevin Wigington said. "You'll see just a sample at the show, but our team members will be on hand to discuss other options."
Windsor, CT (PRWEB) October 17, 2013
The regional machine tool distributor will showcase three Okuma machines: the Genos M560-V Vertical Machining Center, the MB-4000H Horizontal Machining Center and the LB3000 EX-II Horizontal Lathe. All are part of Okuma's "Affordable Excellence" machine collection with the powerful Okuma THINC®- OSP Control and exceptional thermal stability provided by Okuma's Thermo-Friendly Concept as standard features.
The Okuma LB3000 EX-II Horizontal Lathe Series offers 66 options to enhance machine flexibility.
Morris South will also display the space-saving Bridgeport GX 300 Vertical Machining Center and the Tsugami B0326-II 6-axis Opposed Gang Tool Lathe, which quickly converts from direct-drive guide bushing bar-fed operation to non-guide bushing operation when fitted with an optional chucker kit.
Live cutting demonstrations will take place on the Tsugami B0326-II, Bridgeport GX 300 and Okuma Genos machines at the Morris South booth.
"Morris South offers a very diverse line of sophisticated CNC machines," Morris South President Kevin Wigington said. "You'll see just a sample at the show, but our team members will be on hand to discuss other options."
Morris South will be located in booth 1201. For more information about SOUTH-TEC, visit the event website at: http://www.southteconline.com.
About Morris South
Morris South, a division of Morris Group, Inc., is the exclusive distributor of Okuma, Tsugami, Bridgeport, and Hardinge machine tools in North Carolina, South Carolina, Georgia, Virginia, Alabama, Arkansas, Mississippi, and Tennessee. Chiron and Kira machine tools are available throughout the distribution region except in North Carolina, South Carolina, and Virginia. Morris South provides new equipment, engineered solutions, replacement parts, service, preventative maintenance and more. Services include customer consultation, financing, installation, training, service and disposition of retired machines.
About Morris Group, Inc.
Morris Group, Inc., established in 1941, is one of the largest machine tool distribution networks in North America. Based in Windsor, Connecticut, the family-owned and operated company employs more than 500 people across 14 business units in the eastern half of the United States.