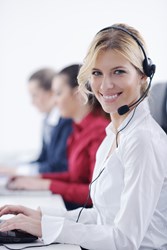 Offering customer service and sales via phone and website chat is a logical extension for our agency and our clients.
Fort Lauderdale, FL (PRWEB) October 15, 2013
Experience Advertising, Inc., a leading digital marketing agency for ecommerce and lead generation, has announced that they are expanding their agency services to include customer service and live chatting with website visitors. The new agency service is aimed at assisting ecommerce companies with the ability to sell to customers via the phone and through real-time website chatting functionality.
Experience Advertising, Inc. already provides an array of online marketing and social media management for all sizes of ecommerce retailers and websites, including: search engine management, social media management, conversion rate optimization, affiliate program management, retargeting, web-design, sweepstakes/contests, email newsletters, shopping engines, customer referral programs, and online marketing consulting. Evan Weber, CEO of Experience Advertising stated, "Offering customer service and sales via phone and website chat is a logical extension for our agency and our clients. We want to provide every essential tool intended to convert more website traffic into sales for our clients. Inbound phone sales and website live chat are big components of building trust and confidence with consumers, so we are happy to provide this service and show a return on investment for our clients."
Experience Advertising, Inc. launched in 2007 as a strictly affiliate marketing agency, but soon expanded based on the needs of their clients. Weber continued, "Once we had a strong foothold in the affiliate marketing channel, we decided to offer some of our other abilities and skill sets to our clients as outsourced agency services. Along the same lines, customer service, while it may sound mundane, is actually quite an exciting part of the whole ecommerce equation. When you are aggressively marketing a website online, you want to take full advantage of all of the traffic that comes to your website. Quite naturally, people like to connect with human beings, so inbound calls and live chatting takes center stage and can really increase overall sales and revenue when done properly."
If you would like to learn more about expanding your ecommerce marketing efforts, visit Experience Advertising for a complimentary evaluation.