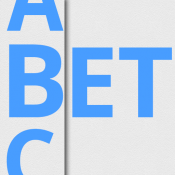 With a lot of vocabulary-centric games, sure you're testing your knowledge of words, but you're not required to do it quickly. In fact, speed has very little to do with how well you do in the game.
Boston, MA (PRWEB) October 17, 2013
Players are required to be a quick thinker with a broad vocabulary to keep up with the fast paced game play featured on Better Letter, an innovative new mobile app just launched by Nick Domenicali.
Better Letter is now available, free of charge, for the iPhone and the iPod Touch. When compared to other word-based games, Better Letter doesn't just challenge the player to expand their vocabulary, but also to think on their toes. Ultimately, players are pitted against other random players from around the globe, and required to create new words from existing words, by only changing one letter. The longer it takes a player to create a new word, the fewer points received. The game comes to an end if there's no other words to be played, resulting in a win by the last player to create a word.
"With a lot of vocabulary-centric games, sure, a player is testing their knowledge of words, but players aren't required to do it quickly. In fact, speed has very little to do with how well an individual does in the game," said Nick Domenicali. "That's what makes Better Letter different—the user is going above and beyond in their game playing capabilities, as their brain is working overtime to create words as quickly as possible."
Better Letter has been faring well on PreApps.com, the world's premier app introduction platform, which provides access to games before they're released. The feedback for the game has been positive, leaving Domenicali encouraged that other users are going to respond well to the dynamics of this game requiring an extensive vocabulary and the ability to think fast.
Users who have provided reviews thus far have praised the fun, creative concept, along with the game's clean, user-friendly interface. Additional features of Better Letter include the ability to rank on a global scale, increasingly difficult levels and the chance to unlock new themes.
"The beauty of a great game is one that's simple in the way it's played, while simultaneously being challenging, to keep players interested," said Domenicali. "That's what's been created with Better Letters, and it's a great combination in the world of mobile app games."
About Nick Domenicali
Nick Domenicali is a mobile app developer based outside Boston, MA. Aside from his latest creation, Better Letter, Domenicali also recently released Yeah Buddy! Exercise Tracker, a weight lifting app. For more information about Nick Domenicali and Better Letter, visit http://www.preapps.com/new-iphone-apps/better-letter-/414.