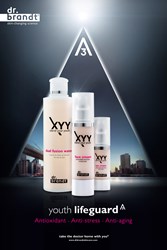 I developed XYY to give skin an infusion of powerful natural ingredients to shield and fortify the complexion daily against the external factors that age it.
Miami, FL (PRWEB) October 18, 2013
WHAT IT IS: The best of nature, harnessed to extend your youth. Don't wait until lines and wrinkles start to show— prevent and defy the aging process with Xtend Your Youth (XYY), the latest breakthrough from dr. brandt skincare. Derived from plant-based ingredients to preserve, protect, smooth and hydrate, the collection acts as the ultimate youth lifeguard. XYY employs an exclusive combination of nature and technology—the A3—to fight stress and aging due to free radicals and external aggressors. Each product in the collection provides powerful antioxidant protection, defends skin cells against oxidative stress and inflammation, and protects against moisture loss to keep skin young and healthy. The regimen is the ultimate must-have for facing daily aggressors in our environment and counteracting the effects of a hectic, stressful lifestyle (i.e. pollution, stress, electromagnetic radiation, smoke).
"Now more than ever, men and women from Generations X and Y want to stay young, prevent and correct the signs of time and are getting serious about preventive anti-aging care," explains Dr. Fredric Brandt. "I developed XYY to give skin an infusion of powerful natural ingredients to shield and fortify the complexion daily against the external factors that age it—free radicals, oxidative stress and dehydration. Cutting-edge technology supercharges the formulas, delivering 900% more antioxidant protection over 12 hours than typical green and white tea extracts."
Each product in the XYY collection features:
New generation of dr brandt's signature Antioxidant Tri-Blend: Comprised of Green Tea, White Tea and Grape Seeds, this antioxidant powerhouse provides 900% more antioxidant protection over 12 hours than commercial green tea and white tea extracts. The tri-blend is obtained through a new, breakthrough extraction technology that acts as a "super juicer", harnessing the antioxidant properties of the entire plant and giving the ingredients more potency and a longer lasting effect.
Dermashield: dr. brandt skincare's exclusive Dermashield features a RedRoseWine complex, combining two polyphenol-rich symbols of classic beauty to inhibit cell oxidation, protect against collagen degradation and stimulate collagen synthesis. At the same time Osmanthus Flower + pro-taurine scavenges free radicals and detoxifies skin cells, neutralizing the toxic effects of pollutants, heavy metals, UV rays and electromagnetic radiation. The duo prevents cell toxicity due to glycation and protects against inflammatory stress response.
Exotic Moisturizing Cocktail: A blend of murumuru butter, shea butter and kokum butter sourced from the Amazon, Africa and India respectively moisturizes and protects, infusing skin with vitamins A, C and E as well as essential fatty acids. The combination of exotic plant extracts helps diminish and smooth fine lines while softening, soothing and nourishing the skin.
The collection includes:
XYY Dual Fusion Water (3.4 oz, $32): This antioxidant-packed cleansing water for face and eyes gently and effectively removes all impurities and makeup (even waterproof formulas), trapping oil and residue in micelles (tiny molecules). Unlike standard water, the XYY Dual Fusion Water formula won't disturb the pH balance of the skin and will protect it from inflammation caused by environmental stressors and inhibit bacterial reactions.
The paraben and fragrance free formula leaves skin soft and fresh after cleansing without drying. The cleanser is a must-have for all skin types, including sensitive skin and contact lenses wearers.
XYY Face Cream (1.7 oz, $59): This paraben-free, fragrance-free anti-aging formula provides 12-hour protection from free radicals and external aggressors, unveiling a luminous, healthy and youthful complexion. Day after day, skin is rehydrated, smoother and softer.
XYY Eye Cream (0.5 oz, $45): This antioxidant eye cream protects, hydrates and smoothes the eye contour, providing 12 hours of protection from free radicals while smoothing fine lines and moisturizing. The paraben and fragrance free formula promotes fresher, more youthful and rested skin around the eyes.
Dr. Brandt recommends: Wash face daily with XYY Dual Fusion Water and apply XYY Face Cream and Eye Cream after cleansing am and pm.
WHERE TO FIND IT: Available beginning October 2013 at Sephora stores, Sephora.com, Ulta stores nationwide and drbrandtskincare.com.
ABOUT dr.brandt® skincare:
dr. brandt® skincare is based on the vision and direction established by world-renowned celebrity dermatologist, Dr. Fredric Brandt. He has dedicated over 30 years of research, practice and experience as the visionary leader of his Dermatology Research Institute, Dermatology Associates and medical practices in New York & Miami. Dr. Brandt's passion and dedication has led to the creation of innovative, high-potency formulas to reset the clock. Experience skin-changing science, when you take the doctor home with you®.