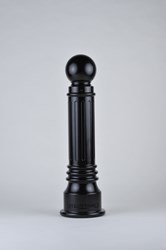 We decided to develop a reference that would explain and define everything about bollards.
Vancouver, BC (PRWEB) October 16, 2013
Reliance Foundry Co. Ltd., North America's premier supplier of bollards, bike racks, and custom castings, is proud to introduce a helpful new tool that will aid in both the understanding and use of bollards – the bollard wiki. A focused reference for architects, suppliers, end customers and anyone else that may be interested in learning about bollards, Reliance Foundry's new wiki can best be described as an online encyclopedia that deals solely with bollards and everything related to them. It is a dynamic tool that will constantly be updated and expanded to define and discuss new products and innovations in the bollard industry. This reference tool will be ideal for those planning bollard installations and for those considering the potential uses of bollards.
"In the bollard industry, we constantly talk with architects and specifiers and we understand that it can be a huge task to stay fully up-to-date on all of the choices available when it comes to bollards," said Rick Pasternak, Sales Manager at Reliance Foundry. "So, we decided to develop a reference that would explain and define everything about bollards and would help to ensure that everyone involved in a bollard project was on the same page."
Once, the term "bollard" only referred to mooring devices, hitching posts and captured enemy cannons but the term has expanded to cover a whole host of traffic guidance and architectural devices. In recent years, bollards have progressed to include camera bollards, child-like bollards and even robotic bollards. These changes and developments made staying up-to-date difficult and would require regularly searching the catalogs of competing bollard suppliers. But, the once cumbersome task has now become much easier with Reliance Foundry's online bollards wiki. Now up-to-date bollard definitions and explanations are all included in one focussed reference. On top of definitions of bollard types, the bollard wiki also discusses bollard function, design, material composition and finish. It will become an indispensable tool in preparing and planning for bollard projects. Another great feature of this resource is that it is designed to be completely impartial. Although it is hosted by Reliance Foundry, the bollard wiki will cover product updates and developments industry-wide to provide users with the most extensive reference list available.
"This is a tool designed to help those that are involved in planning bollard projects so we focus on the whole industry, including some products Reliance Foundry doesn't offer," said Reliance Foundry's Vice president of Sales and Marketing, Brad Done. " Users can rest assured that the bollard wiki is not a disguised sales pitch for any specific bollard or company."
With over 85 years of experience in the design, production and installation of bollards the experts at Reliance Foundry know the "in's and out's" of bollards and they now provide this knowledge free of charge on the online bollard wiki. An easy-to-use resource, the bollard wiki is designed to be a focused reference for the entire architectural industry, addressing all the functions bollards perform and the many design choices available today. From bollards that provide decorative highlighting to those that provide security, find all the definitions and explanations at: http://www.reliance-foundry.com/bollard/bollard-wiki.
About Reliance Foundry Co. Ltd.
Reliance Foundry has been a trusted supplier of cast metal products since 1925. Specialists in bollard design, production and installation, Reliance Foundry's innovative catalogue also features cutting-edge bike racks and industrial-grade, steel wheels. Reliance Foundry sources cast metal solutions from across the globe to provide competitive prices and conveniently ships to all locations within North America. Reliance Foundry is the proud recipient of the Surrey Board of Trade's 2012 Business Excellence Award.
###