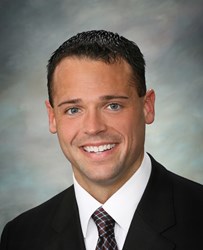 Hundreds of millions of dollars go unclaimed each year because organizations have not taken advantage of all the available federal and state credits
Madison, WI (PRWEB) October 16, 2013
Ryan J. Hauber, partner at Honkamp Krueger & Co., P.C.(HK), will be conducting a training session for The Institute of Internal Auditors (IIA) New York Chapter on Friday, Oct. 18, 2013.
Hauber's presentation "Fiscal Cliff 2013 Tax Credit Impact" will review tools and techniques to ensure organizations optimize available employment tax credits from an internal control perspective. He will review how all organizations, including not-for-profits, can benefit from these credits. Attendees will obtain an overview of the wide variety of federal and state tax credits available to their respective organization and strategies they can use to fully utilize these opportunities.
Congress has authorized billions of dollars in incentives through federal and state employment tax credits to encourage business growth and economic development. However, hundreds of millions of dollars go unclaimed every year because businesses do not know about the credits or do not have the tools, time and proper internal controls to maximize them.
Many of the credits Hauber will be discussing, including the Work Opportunity Tax Credit (WOTC), were extended as part of the American Taxpayer Relief Act of 2012. The bill, passed by the U.S. House during January 2013, renewed a multitude of the so-called "tax extenders" through 2013.
Hauber is a Certified Fraud Examiner (CFE), Certified Construction Auditor (CCA) and Construction Control Professional (CCP) with over 15 years of global consulting experience for both public and private sectors. He has extensive experience with regulatory compliance, fraud, forensic, internal controls, investigative engagements, construction auditing and internal audit management. He has been a frequent lecturer for the past 10 years on important industry topics at national and international venues with the National Retail Federation (NRF), Association of Audit Committee Members, Inc. (AACMI), Association of Certified Fraud Examiners (ACFE), Association of College and University Auditors (ACUA) and the Institute of Internal Auditors (IIA). He has also been featured in national publications including Retail Merchandiser magazine and Smart Business magazine and has served on the board of directors for two private companies located in Michigan and Minnesota.
HK is a Top 100 CPA and business consulting firm and the fastest growing Top 100 firm in the Midwest (Accounting Today, March 2013). In addition to its CPA practice, HK includes HK Financial Services (HKFS), its wealth management affiliate; HK Payroll Services, Inc. (HKP), its workforce management affiliate; and the HK Alliance, CPA and business consulting firms throughout the U.S. sharing resources and best practices.