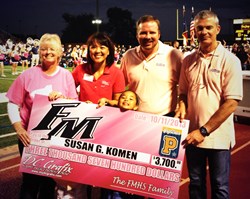 Cedar Hill, TX (PRWEB) October 17, 2013
As a preferred vendor for Flower Mound High School, PepWear was proud to donate 350 Pink T-Shirts to the Football Booster Club for a fundraiser which would raise awareness and money benefiting the North Texas Chapter of Susan G. Komen. The resulting $3700 dollars raised was an exciting increase over previous year's donations.
PepWear was approached in August by Charlotte "Char" Naffziger of the FMHS Football Boosters to be the T-Shirt donor for the second year of their fundraising and awareness project. Char was inspired by the fact that the FMHS Athletic Secretary is a breast cancer survivor. "I knew that October was a month that I really wanted to get the school involved and do something to make a difference in our community," Char expressed to Jami Williamson, President of the Booster Club, in 2012 and the annual project began.
PepWear designed the T-Shirt with the slogan Give Cancer the Boot and delivered them to the boosters in September. The booster club began their campaign on the following Friday, selling at school and football games to students, parents and faculty at FMHS quickly building excitement for the campaign.
On Friday October 11, 2013 Char was joined during a break in the halftime show by PepWear sales representative, Jess McDowell and PepWear owner, Craig Johnson in presenting a check for $3700 to Cathreena Kang, Missions Program Director from the North Texas Chapter of Susan G. Komen.
"Without the PepWear donation and Char's hard work this would not have been possible," said Ms. Williamson. "We hope and look forward to teaming up with PepWear in the future for this cause and make it a true tradition at Flower Mound High School."
About PepWear: PepWear screenprints and embroiders over 4,000 custom apparel orders for schools, non-profits, and businesses each year. Additionally, PepWear attends hundreds of events annually across the U.S. to recognize and celebrate student achievements. They do so by offering commemorative T-shirts, other apparel, plaques and jewelry for sale at the events. True to spirit, PepWear contributes a significant portion of its revenue, more than $800,000 last year alone, to support groups that promote youth achievement.
# # #
To learn more about PepWear, visit http://www.PepWear.com.