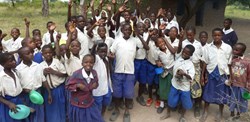 The meals provide an incentive for children to attend school and allow those who otherwise would go hungry the ability to concentrate, learn and develop to their fullest potential.
San Diego, CA (PRWEB) October 16, 2013
As we commemorate World Food Day, PCI announces the expansion of its McGovern-Dole Global Food for Education programs in Nicaragua, Guatemala and Tanzania, thanks to three substantial grants from the U.S. Department of Agriculture (USDA). The programs are designed to increase enrollment, retention and attendance rates of students, particularly girls. A hot meal will be provided to nearly 250,000 children daily over a 3-year period.
"Improving the health and nutrition of vulnerable children is a key focus of our school feeding programs," said Tim Ogborn, Vice President and Director of PCI's Washington DC office. "The meals provide an incentive for children to attend school and allow those who otherwise would go hungry the ability to concentrate, learn and develop to their fullest potential."
PCI has long recognized that quality education is the cornerstone of gender equity, human security, community development and national progress. Research and decades of experience by aid agencies like the UN World Food Program show that school feeding can alleviate hunger, dramatically increase attendance, improve school performance and provide parents incentive to send their children to school. The McGovern-Dole food programs are being implemented as a platform to address those factors as well as to improve student health and nutrition; improve school infrastructure; improve the quality of teaching; increase collaboration between parents and teachers; and strengthen the role that education can play in improving the lives of surrounding communities now and into the future.
PCI addresses this year's World Food Day theme of Sustainable Food Systems for Food Security and Nutrition through a variety of food-related programming around the globe, including these three critical McGovern-Dole programs, ensuring that the vicious cycle of poverty and malnutrition does not continue. By incorporating complementary sustainable activities in conjunction with school feeding, PCI is making a significant impact on many of the complex root causes of malnutrition and poor health. Such activities include health education and screening; water, sanitation and hygiene; education quality; environmental protection; and school-based agriculture.
The multi-faceted sustainability plan developed through these programs engages key stakeholders in the local communities and ensures that each school has a functioning Parent/Teacher Association (PTA); training and support for teachers; and relationships with local government officials. School gardens are used as a platform to educate students, teachers and parents about nutrition, diet diversity, organic pest management and composting, as well as a strategy for sustaining the school feeding program. Each PTA receives education and training on a variety of important education, food nutrition security and health issues. Water and sanitation is improved through the construction of latrines, tippy taps, promotion of hand washing and proper hygiene. Ecological cook stoves are used, built or improved in order to ensure air quality and minimal deforestation. Students, teachers, parents and school administrators also learn to use information strategically for monitoring, evaluating and improving program performance.
Last year, PCI provided a hot, nutritious meal to over 170,000 children every day in 1,650 schools located in Bolivia, Guatemala and Tanzania – approximately 3,400,000 meals per month. For more information on PCI's lifesaving efforts, please contact Bonnie Maratea at (858) 279-9690 or bmaratea(at)pciglobal(dot)org.
###
PCI (Project Concern International) is an international health, development and humanitarian assistance organization, operating in 16 countries worldwide. PCI is dedicated to saving lives and building healthy communities around the globe, benefiting over 6.3 million people annually in Asia, Africa and the Americas. Funded by federal grants and private support, PCI celebrated its 50th anniversary in 2011. PCI's headquarters are located in San Diego, CA and the organization also has an office in Washington, DC and a Seattle, WA representative.