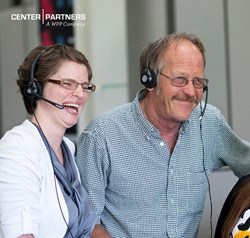 We feel lucky to be a part of the Northern Colorado community, and are always looking for a chance to give back - Kristi Fetveit, Account Director, Center Partners
Fort Collins, Colorado (PRWEB) October 17, 2013
When fierce and heavy rains caused several of Colorado's Front Range Rivers to flood, the resulting damage to home and business were some of the worst the region has ever seen. Among the first to respond to the disaster was the United Way of Larimer County, whose 211 information and referral phone service helps those affected by the flood.
The 211 system provides information on shelters, food donations, animal evacuations, as well as continually updated information on road closures and power outages. United Way sent a request to the community for volunteers to help them handle the increased call volume they were receiving during the flooding. Employees of Center Partners, a locally owned domestic call center, were quick to offer help.
"We feel lucky to be a part of the Northern Colorado community, and are always looking for a chance to give back," said Kristi Fetveit, an Account Director for Center Partners who has been with the company for over 8 years. "After we assisted the United Way last year with the High Park Fire relief efforts, they told me that Center Partners employees make ideal volunteers because of their impeccable customer service skills and phone training. Our continued support is a natural extension of what we had previously done to help. "
She and fellow Center Partners employees have volunteered over 40 hours of phone time for 211, and will continue to assist for the duration of the relief efforts.
Center Partners plans to continue their support of the United Way of Larimer County's 211 services during non-emergency times as well. Currently, Center Partners is helping create training modules that all 211 volunteers can use. The goal is to get volunteers trained faster so that they can spend more time answering calls for those with questions and those in need.
Center Partners is a leading provider of high value contact center and web self-service solutions for consultative sales, customer service, technical support, outbound campaigns, and order entry/fulfillment. They work within multiple industries including retail, financial services, consumer electronics, telecommunications and wireless services. The company has 4,000 employees in 6 locations across Colorado, Idaho and Washington. It is a subsidiary of Kantar, the parent company for WPP's market research companies.