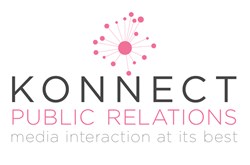 We look forward to adding to Menchie's already stellar reputation and contributing to the brand's continued success. - Sabina Gault, CEO of Konnect PR
Los Angeles, CA (PRWEB) October 16, 2013
Konnect Public Relations, a full-service, ROI-driven public relations agency that specializes in working with franchise and food and beverage brands, was recently selected as the agency of record for Menchie's, North America's largest self-serve frozen yogurt franchise. Konnect PR will handle all consumer-facing public relations initiatives, working in tandem with the team at Menchie's to produce a steady stream of exposure on both a national and local level for Menchie's more than 300 locations.
Menchie's holds the prestigious status of being the largest self-service frozen yogurt franchise in the world and was named the number one fastest growing food franchise in the United States by Restaurant Business Magazine. Effective immediately, Menchie's has appointed Konnect PR to define and execute media relations strategies and reinforce the brand's positioning via innovative public relations campaigns. Menchie's values Konnect PR's solid and impressive experience in working with franchise and food and beverage companies, and both parties are excited to be working together.
"Menchie's has become the powerhouse brand that it is thanks to its amazing leadership, company culture and mission to make people smile," said Konnect PR CEO Sabina Gault. "At Konnect PR, we share many of the same values and are excited and grateful to have an opportunity to use our expertise in this arena to really shine a spotlight on a company that truly deserves it. We look forward to adding to Menchie's already stellar reputation and contributing to the brand's continued success."
"As a brand that is growing quickly, we wanted to partner with a public relations agency that not only understands our business but also our mission," said Amit Kleinberger, CEO of Menchie's. "We look forward to working with Konnect PR and together, creating more smiles."
For more information about Konnect PR, clients and services, please visit http://www.konnect-pr.com. For more information regarding Menchie's, including store locations or franchising opportunities, please visit http://www.menchies.com.
About Konnect PR:
Konnect Public Relations is a mid-size, full service agency located in Los Angeles. The public relations agency specializes in food and beverage, baby and children's products, franchise and lifestyle clients. Since its start in 2009, this dedicated team of publicists has made it their goal to create ROI-driven campaigns, land strategic media placement opportunities and deliver results that cater to the specific needs of each client. For more information about Konnect PR, please visit http://www.konnect-pr.com.
About Menchie's:
Menchie's creates lasting memories by creating an unparalleled guest experience with a mission to make every guest smile. Menchie's is a world-leader of ensuring best-in-class products and is the ambassador of frozen yogurt quality worldwide. With more than 300 stores, the franchise has locations open in the United States, Canada, Japan, Australia, Puerto Rico, Israel, Guam and Jordan. Menchie's expects to celebrate 400 open stores in 2013. Guaranteeing happiness in every cup, the brand offers guests premium rotating yogurt flavors and delicious toppings for unlimited combinations in every bite. The proprietary collection is made from the milk of "smiley" California cows, which have not been treated with artificial growth hormones (rBST). Menchie's frozen yogurt contains live and active cultures and has received the Live and Active Culture (LAC) seal indicating its endorsement by the National Yogurt Association.