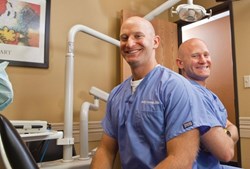 Austin, Texas (PRWEB) October 16, 2013
For the third year in a row, two area dentists are putting a new spin on the phrase "put your money where your mouth is." This Halloween trick-or-treaters can bring their excess candy to both Family Tree Dental Group locations to receive $1 per pound. Drs. Chad and Shelby Denman are leading this anti-decay movement by giving away dollars in exchange for cavity-provoking candy.
"Ditch the candy, that's what we're saying. Visiting your dentist twice a year and brushing daily are great preventative measures, but doing away with excess sweets altogether would really give your teeth a healthy boost," says Dr. Chad Denman, Austin dentist/Round Rock dentist and co-owner of Family Tree Dental Group. "Kids can still have all of the fun of trick-or-treating, and now their piggy banks will benefit as well."
Global sugar consumption for children increases by about 2% annually and currently sits at 50 million tons per year, which means parents need to be sure their kids teeth are being cared for more than ever. Sweets can also lead to hyperactivity and weight gain. In some cases, certain candy can also be attributed to broken teeth and damaged braces.
The treats will be collected at Family Tree Dental Group's Austin location (5310 Burnet Rd) and Round Rock location (200 N Red Bud Ln) on October 31, November 1 and November 4 during normal business hours. The candy must be unopened. It will then be shipped to troops overseas. In 2011 and 2012, Family Tree Dental's two offices collected about 300lbs of Halloween treats.
Family Tree Dental Group was founded in 2011 by Austin dentists - Round Rock dentists and identical twin brothers Drs. Chad and Shelby Denman to provide high quality dental care in a state-of-the-art environment with careful attention to detail and deep personal respect. Family Tree Dental Group helps maintain the oral health of patients of all ages and cares for all dental needs under one roof. For more information, call (512) 458-5999 in Austin, (512) 310-3999 in Round Rock, or visit http://www.FamilyTreeDentalGroup.com.