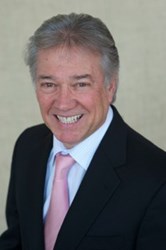 Dallas, TX (PRWEB) October 15, 2013
Pregnant women who have gum disease symptoms such as inflamed or bleeding gums may not realize that ignoring those symptoms could adversely affect their babies. Research has linked periodontal disease with a greater risk of having a low birth weight baby. Pregnant women can mitigate this risk by visiting Dr. Michael Neeley, who is able to perform an FDA-cleared laser gum surgery procedure, the Laser Assisted New Attachment Procedure (LANAP). LANAP is less invasive than conventional surgery and is safe for use during pregnancy.
Research has indicated that women with periodontal disease are at a higher risk of having a low birth weight baby. Although the exact relationship between the two conditions is not known, pregnant women are encouraged to remove the risk that periodontal disease might pose. An estimated one in ten babies in the U.S. is born with a low birth weight. Besides facing initial health challenges, babies born with a low weight may have to live with an increased risk of chronic health problems as adults. These conditions include diabetes, heart disease, and high blood pressure.
The dangers that low birth weight can introduce are alarming, but some women may find it difficult to commit to an invasive surgery. These women can especially benefit from visiting Dr. Neeley to receive LANAP. This gum surgery procedure eliminates the need for cutting and suturing, leading to a shorter recovery period. The laser that Dr. Neeley uses has no effect on healthy tissue, and it even lessens the chance of infection by stimulating the formation of a protective blood clot. LANAP offers reliable results and a low risk of complications.
Women who are pregnant should pay close attention to their health, and oral health is no exception. Gum disease symptoms to look for include mouth sores, changes in the way that teeth fit together, and gums that are swollen, receding, or bleeding. However, sometimes symptoms may not become apparent until gum disease has advanced significantly, so regular visits to the dentist are important. Patients can visit Dr. Neeley's website to learn about the details of LANAP or call his office to make an appointment.
About the Doctor
Michael Neeley, DDS, PA, is a general dentist offering personalized dental care for Dallas, TX gum disease patients. Dr. Neeley is part of one percent of dental professionals providing the most recent FDA cleared laser procedure for gum disease and periodontal treatment. To learn more about Michael Neeley, DDS, PA, and his dental services visit his website at http://www.dallasdds.net and call (214) 306-9033.