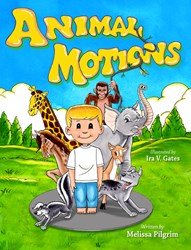 Free lesson plans for both preschool and kindergarten.
Littleton, NH (PRWEB) October 16, 2013
School is in full swing, and early childhood educators looking for unique ways to develop fit young minds and bodies just might have a new resource in Melissa Pilgrim's book ANIMAL MOTIONS, from Indigo River Publishing. The book combines imagination, reading, and movement while tapping into the seemingly universal wonder and fascination children have with animals.
Inspired by the author's theatre classes with young children, ANIMAL MOTIONS is a low-impact movement routine told as a story. It follows five-year-old Eric as he stretches and moves his body at the start of his day by using his imagination to become some of his favorite animals. Readers travel with him to the jungle, the desert, the forest, the ocean—and are encouraged to mimic moving like a variety of animals along the way. Illustrator Ira V. Gates' full page watercolor illustrations help to guide the reader's imagination.
The book can be read and acted out at home, but it's also tailor made for early childhood classrooms. In an effort to assist educators, the author has made six free lesson plans available -- in the categories of Health & Fitness, Drama, and Biology & Geography -- for both preschool and kindergarten, at http://www.AnimalMotions.com. She even includes a free mini-poster that can be printed out for the little ones to color.
The author is so passionate about bringing "creative fitness" to schools with ANIMAL MOTIONS that she's become an active participant in classroom readings. "It's so fun!" she says, "I've read the book in schools, and the kids are just loving it every time I go!"
According to Pilgrim, ANIMAL MOTIONS accomplishes two objectives for educators. "First, it shows children how to move and stretch their bodies to help them develop healthy lifestyle habits, stay active, and be more confident with how their bodies move overall," she says. "Second, it teaches children how they can be creative and use their imaginations as they pretend to be different animals living in various habitats. It was written to show kids everywhere how using their imaginations can help make moving their bodies even more fun."
The author, Melissa Pilgrim, has over 15 years of experience writing for projects in all mediums—film, TV, theatre , and book publishing. The illustrator, Ira V. Gates, has over 25 years of experience working as a graphic artist for newspapers and magazines. The book is available at Amazon.com and IndigoRiverPublishing.com. For more information visit http://www.AnimalMotions.com.