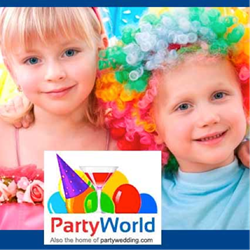 We hope that our tremendous variety and personal service will continue to pull local customers in to the store and the website.
Tacoma, WA (PRWEB) October 29, 2013
Party World owner Carole Rockne of http://www.PartyWedding.com has updated their e-commerce site to state of the art which will adapt to whatever platform the customer is using, be it an iPad, mobile phone, or PC. Offering close to 12,000 party and wedding supplies along with theme accessories to Internet shoppers across the country, this party store in Tacoma, Washington has helped residents with parties and weddings for 35 years and has been a presence on the Internet for over 15 years. "We are excited to offer this new website," Carole said, "for our local shoppers and nationwide to provide a huge variety of supplies for everything from a small child's theme party to an elegant wedding reception."
A Lot More Than a 'Big Box' Store: "Upgrading in the recent economy has been tough," Carole said. "As a family-owned business, we are up against the 'big box' store competition. But we hope that our tremendous variety of items and personal service will continue to pull local customers in to the store, and that the website will attract those unable to shop in person. People feel good about 'shopping local' and also supporting 'the little guy' rather than large, national corporations."
"People today are so busy--we want to make it simple and fast for them to choose a theme or a look, and shop online for beautiful party items, everything they will need in one spot," Carole said, "and at a competitive price. Plus our staff knows our products and can offer suggestions that work, for those who are new to party giving. Whether it's a birthday party for 10 kids, a wedding reception for 100, or a corporate bulk order, Party World is ready to give individual attention to the customer to make the event a success."
A Second-Generation Family Business: Carole's parents, Mamie and Jim Powers, began the business in 1979, at first selling bulk paper products, such as paper towels and napkins. This soon evolved into supplying wedding invitations and then into wedding accessories. Then in the 1980s, the business expanded into Party World, with a rapidly increasing inventory.
Carole was working as a nurse when her parents launched the business, but after her father became terminally ill, she left her job to help take care of him, and stayed on to manage Party World after his death in 1995.
Birthday, Themes, Holiday, Baby Shower, Anniversary and Wedding Supplies: Be sure to see this new website with its huge selection of decorations, invitations, favors, costume accessories, cake decorating and much more. Snowflake decorations provide a delightful example of supplies for any winter celebration from the school room to weddings, from Christmas to New Years. Like other themes, the customer will find balloons, cutouts, centerpieces, dangling and ceiling decorations. If assistance is needed with ordering or for party ideas, email or call at 1-800-933-3948.