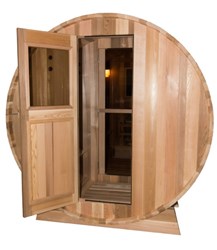 Renick, WV (PRWEB) October 18, 2013
Almost Heaven Saunas will introduce the Grandview XL, a deluxe new sauna, at the International Pool, Spa, and Patio Expo in Las Vegas Nov. 12-14.
The Grandview XL is a ten-foot long, two-room sauna and the first of its kind in the sauna industry. "The smaller room is a changing room, allowing the sauna bather to disrobe and enter the larger room for the sauna experience," said Rick Mouw, the President of Almost Heaven Saunas. The sauna features a genuine Finnish heater, western Canadian red cedar, large benches, full-length back rests, and much more," Rick said.
The Grandview XL is a wet sauna, where water poured onto hot rocks releases steam, which heats the whole room.
The international trade-show in Las Vegas is designed for industry professionals, and includes manufacturers from all parts of the pool, spa and patio industry. Almost Heaven Saunas exhibits at this show every year, as well as similar shows throughout Europe on an annual basis.
"What makes our saunas special is their exceptional quality and attention to detail, Rick said, "which is why we have been growing at such a fast rate. The company has been building handcrafted saunas in West Virginia for nearly forty years and is recognized worldwide as a leading sauna manufacturer. We have also benefited," Rick said, "because of the increased interest in the general population in products that promote a healthy lifestyle. "
Weight Loss and Other Health Benefits
"The secrets of sauna benefits are now becoming better known," Rick said. "One of the main benefits is weight loss. The high temperature attained in a wet sauna causes your heart rate to accelerate and your metabolism to increase. This aerobic effect speeds your calorie burn and causes you to lose weight in the process."
Rick said that some studies claim that twenty to thirty minutes in a sauna burns as many calories as thirty minutes of moderate exercise. "Of course, actual weight loss will vary from person to person, but the bottom line is that sauna use will definitely help you burn more calories," Rick said.
"The sauna also fosters relief from arthritis pain, because the sauna room immerses the whole body into a therapeutic, hot environment, soothing sore joints and muscles when used on a regular basis."
"There are other terrific benefits for the body," Rick said, "from sweating and releasing harmful toxins through perspiration to increasing white blood cell production, which enhances the immune system."
Almost Heaven Website Has Detailed Information
"Our website (http://almostheaven.com) lists the sauna benefits in detail: improved circulation, clearer and softer skin, and relief for chest congestion, bronchitis, and plugged sinuses, plus deep relaxation. Also, not so well known, is that the aerobic effects of a sauna session lead to the same post-workout effects of strenuous exercise. An accelerated heart rate combined with the increase in body temperature leads to a release of endorphins, causing you to feel relaxed and refreshed as your body cools down," Rick said.
"I expect that sales of the Grandview XL and our other models will go well after the Expo," Rick said. "More institutions are installing saunas, as are individuals who want the sauna benefits right at home. We have sauna models for all budgets."