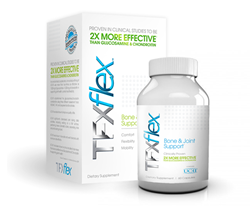 This product has been shown in clinical studies to be 2X more effective than glucosamine & chondroitin.
Salt Lake City, UT (PRWEB) October 16, 2013
TFX Health, LLC announced earlier this week that it plans to pursue Canadian NPN Registration for its popular TFX Flex™ joint health supplement. Since its introduction earlier this year, TFX Flex™ has become the best selling triple threat product at GNC for bone, joint, and muscle health. It has also become a top rated supplement at Amazon.com for joint pain relief. Introduction into the Canadian market is expected to provide a significant boost to TFX Flex™ sales worldwide.
All natural health products (NHPs) sold in Canada are subject to the Natural Health Products Regulations, which came into force on January 1, 2004. According to Health Canada, these regulations state that, "All natural health products must have a product license before they can be sold in Canada. To get a license, applicants must give detailed information about the product to Health Canada, including: Medicinal ingredients, source, dose, potency, non-medicinal ingredients and recommended use(s)." The product licensing process ensures that all natural health products sold in Canada meet specific labeling and packaging requirements, follow good manufacturing practices (GMP), and provide proper evidence of safety and efficacy.
A TFX Health Company spokesman explained that, "Health Canada has some of the most stringent regulations for dietary supplements in the world. Successfully acquiring a Natural Product Number from Health Canada is like the golden seal of approval in the dietary supplement industry and it helps to facilitate quick and successful introduction of a product into other export markets. TFX Flex™ has an excellent safety record and outstanding clinical studies supporting its joint health claims."
TFX Flex™ contains a breakthrough new dietary ingredient known as UC-II® that has been proven in human clinical studies to be 2X more effective than Glucosamine & Chondroitin for joint pain relief. UC-II® was developed by a team of scientists with more than 25 years of experience in the development of patented, clinically proven dietary ingredients. It holds 7 international and U.S. patents and is supported by 9 human clinical studies, including research at Harvard Medical School.
In a randomized, double-blind, placebo-controlled human clinical study it was found that only 40 mg of UC-II® Undenatured Type II Collagen was more than two times as effective as 1,500 mg of glucosamine and 1,200 mg of chondroitin in supporting joint health, comfort and flexibility. It outperformed the glucosamine & chondroitin combination in three different joint pain relief assessment tools. UC-II® was also shown to be safe and well tolerated with no known side effects [Int J Med Sci. 2009; 6:312-321].
Within the joint health industry in the United States, TFX Flex™ has been a breakout success offering a safe and effective alternative to glucosamine & chondroitin. The introduction in Canada early next year is widely anticipated and expected to be a popular addition to that countries joint health market.
To learn more about TFX Flex™ Joint Health Supplement please visit http://www.TFXflex.com/. The product is also available at GNC or Amazon.
About TFX Health, LLC
Based in Salt Lake City, TFX Health, LLC is an innovative pioneer in the development of advanced health and wellness products. All products are manufactured in the USA in FDA registered, GMP compliant facilities and sold worldwide through online and traditional retail channels.
UC-II® is a trademark of InterHealth N.I. Clinical data available upon request. U.S. Patents 5,645,851; 5,637,321; 5,529,786; 5,750,144; 7,083,820; 7,846,487, EPO Patent 1435906B1 and worldwide patents pending.