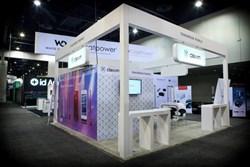 Video can impart a far greater amount of information than any other medium can in a single second.
Las Vegas, NV (PRWEB) October 16, 2013
Absolute Exhibits, a custom exhibit rentals and marketing services provider, is offering discounted pricing for corporate videos for the upcoming CES 2014 (Consumer Electronics Show) in Las Vegas, Nevada.
Absolute Exhibits' corporate video promotion is aimed at offering exhibitors the opportunity to showcase their organizations with a professional corporate video that will stop prospects in the show aisles and allow their company to stand out on the busy trade show floor.
Video can impart a far greater amount of information than any other medium in a single second. This flooding of information encourages a response before any static graphic message can be processed. Therefore it's no surprise that advertising's move towards storytelling has coincided with an increase in the use of video. Every business has a good story to tell, you just have to look deeply.
The key to a successful corporate video is to tell a story that has a human dimension to it, something we can all relate to. "Video is an essential element of a successful branding program. Engaging video triples your booth staffing ratio while challenging your competition and keeping you current", said Todd Koren, President and CEO of Absolute Exhibits, one of the larger trade show displays builders in the USA. "The crowning achievement of a terrific trade show experience is your in-booth video presentation, but it must be fresh, dynamic, and relatable to set your brand apart on the show floor."
The Absolute Exhibits corporate video production team offers script writing, producing, directing, shooting, motion graphics, original music and high-definition editing … a complete service in-house. Video has a life after the trade show. Once used on the trade show floor, your corporate video can be used in a variety of ways to increase your SEO rankings, add to your Social Media offerings, and provide both investor presentations and in-house communications. For more information on this promotion for CES 2014 show exhibitors, call (714) 685-2845 or visit Absolute Video Services.
About Absolute Exhibits:
Absolute Exhibits, established in 2000, rents and sells large custom exhibits at over 300 shows in the USA and in countries around the world. Absolute Exhibits is dedicated to providing distinctive marketing settings as well as pre-and-post show and, event marketing and support services for our clients. At Absolute Exhibits every aspect of the exhibition project is handled using in-house resources and every question is answered in-house as well. Absolute Exhibits is a true one-source exhibit house.