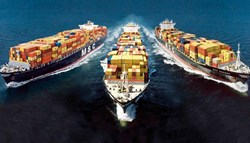 Los Angeles, CA (PRWEB) October 18, 2013
In order to address the needs of customers transporting goods outside of the United States, Acclaimed Movers & Storage now offers overseas shipping. This is in response to the growing number of clients seeking to relocate outside the United States. The luxury mover has expanded their services to include everything customers require for an international move. Moving consultants specialized in international moving rules and regulations will advise clients throughout the overseas shipping process, and make sure they have proper documentation. They will also work with customs and help movers navigate shipping restrictions. Office equipment, households goods, machinery—items of any kind, including boats and other vehicles—will be carefully packed (and custom crated as necessary) for a long journey. After being transported in Acclaimed Movers' own cargo containers, trustworthy professionals will be there for pickup and to address any issues. Overseas shipping services extend to both commercial and residential customers. Restaurants, warehouses, retail spaces and large estates will be relocated with the same ease and attention to detail as a one-bedroom apartment.
The new overseas shipping services have further solidified Acclaimed Movers & Storage's reputation as a leader in full-service relocation assistance. Hundreds of thousands of movers in their 10-year history have relied on the company to take them to their new locations, whether the move entailed local or long distance travel. The Acclaimed Movers' method of packing has been elevated to an art form, to ensure that every item (packed by rigorously trained professionals) is in the exact same condition at the end of the move as it was at the beginning. This extends to even fragile, delicate and awkward objects: antiques, musical instruments, fine works of art. Customers also love leaving the loading and driving to Acclaimed Movers—less time hauling and traveling means more time to settle into a new location. The company's courteous employees will even handle all dis-assembly and reassembly of furniture, office cubicles, etc. There's another excellent reason to go with this luxury moving company: large, well-maintained moving trucks come equipped with GPS systems, low-rolling-resistance tires and engines that use bio-diesel fuel—improving the vehicles' efficiency and lowering their carbon footprint.
From the first phone call to the unloading of the last box, Acclaimed Movers & Storage is dedicated to customer satisfaction. They've covered all the bases of moving household and business goods, so their clients can attend to their personal moving needs. Call today to find out more and to arrange for a free quote.