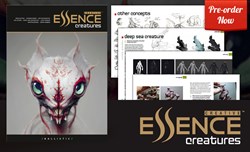 ESSENCE: Creatures is destined to be the ultimate textbook for creature design.
Adelaide, South Australia (PRWEB) October 18, 2013
Ballistic - the publisher of the finest digital art books - asked eight master artists, from studios such as Sony Santa Monica and Weta Workshop, to collaborate in the creation of a series of creatures. The result is a stunning guide, which shows what wonders these Masters of monster-making can create when given complete freedom. ESSENCE: Creatures is the essential manual to all of those hoping to break into the film and game market - these are the never before seen creatures that will fuel a whole new generation of critters, brutes and fiends.
The Authors are Bryan Wynia, Andrew Baker, Aris Kolokontes, Ian Joyner, James Van Den Bogart, Josh Herman, Martin Rezard, Simon Webber. They hold credits for many of the top film and game titles made over the past few years, such as God of War Ascension, The Adventures of Tintin, The Hobbit Trilogy, UnCharted 2: Among Thieves, Uncharted 3: Drake's Deception, Avengers, Iron Man 3, Harry Potter, Prometheus, Game of Thrones and Pacific Rim.
ESSENCE: Creatures exposes the thoughts and decisions behind each artist's work – what happens when they stare at a blank page; where they look for inspiration; how they incorporate reference material into their concepts; how they analyze their concepts and decide what needs refining and what needs deleting; what their process of development is; and the variety of techniques they employ to bring their concept to stunning visual resolution.
ESSENCE: Creatures is destined to be the ultimate textbook for creature design.
About the ESSENCE series
The first book in the Creative ESSENCE series is the best-selling Creative Essence: The Face, which shows how six professionals created a digital model of a face from beginning to end. The Face encompasses reference photography, modeling, UV mapping, texturing and rendering to create a digital double that would be at home in any next-generation game, cinematic or movie.
Creative ESSENCE: Creatures is the definitive book on sculpting creatures and takes the series to another level. It features the private work of some of the best creature concept artists and 3D modelers working in the CG industries today.