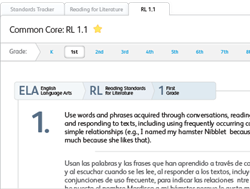 The biggest challenge facing teachers who must quickly adapt to the Common Core is a shortage of standards-aligned resources
Portland, OR (PRWEB) October 16, 2013
Addressing a shortage of high quality instructional resources and tools for Common Core State Standards, EdCaliber, the cloud-based, curriculum planning and implementation platform for K-12 school districts, today announced it has released the EdCaliber Common Core Building Blocks™, a collection of fundamental curriculum components built around the Common Core State Standards. This suite of content, integrated into the EdCaliber Instructional Improvement System (IIS) via the new Standards Browser, provides school districts with a significant head start to developing and implementing robust, standards-based curriculum.
"EdCaliber has already enabled teachers in our district to collaborate online – planning lessons, sharing resources and accessing teaching calendars from any location," said Dr. Alan Nishino, Superintendent of Fillmore Unified School District in California. "As our district fully transitions to CCSS, EdCaliber Common Core Building Blocks will eliminate many hours from the complex process of adapting California standards-based lessons and creating new ones."
The Common Core Building Blocks provide essential information for each Standard such as unpacked skills and content, academic vocabulary, teacher higher-order questions and prompts, student sentence frames at the new ELD Emerging, Expanding and Bridging Levels, performance tasks, and curated Common Core-aligned resources. Using these components, and the Standard Progression Bar, teachers can develop a deeper understanding of the standards themselves, how they are related to other standards, and how standards can be combined together. With Common Core Building Blocks, School districts are better positioned to create units of instruction and to evaluate third party units to ensure they meet the proper levels of rigor.
"The biggest challenge facing teachers who must quickly adapt to the Common Core is a shortage of standards-aligned resources," said Rebecca Mieliwocki, National Teacher of the Year 2012. "EdCaliber Common Core Building Blocks provide educators with powerful instructional elements for each standard which can be used directly in the classroom or built upon to develop a rigorous curriculum."
The EdCaliber Standards Browser provides quick access to both Common Core and related state standards, including the new CCSS-aligned California 2012 ELD Standards and CCSS en Español. The Standards Browser is integrated with the EdCaliber resource manager and calendars so educators can view linked resources alongside each standard and quickly build curriculum maps and lesson plans. EdCaliber also provides a free Mobile Standards Browser at m.edcaliber.com.
Mónica Nava, Senior Director of English Learners at the San Diego County Office of Education, said "Educators have a dual obligation to English Learners -- to provide meaningful access to grade-level academic content via appropriate instruction and develop students' academic English language proficiency. EdCaliber helps teachers to meet this dual obligation by facilitating planning and implementation of a curriculum that leverages the new California 2012 ELD standards in tandem with the Common Core State Standards."
"EdCaliber was built from the ground up to support instruction and assessment aligned to standards," said Kevin Stone, CEO of EdCaliber. "By integrating Common Core Building Blocks, we are empowering school districts to more quickly transition to the Common Core and take their instruction to the next level."
EdCaliber Common Core Building Blocks are available today as part of the EdCaliber Instructional Improvement System (IIS), and are free to current customers.
###
About EdCaliber
EdCaliber is grounded in the philosophy of research-based best practices and cycles of continuous improvement. EdCaliber delivers a cloud-based curriculum planning, pacing, sharing and assessment tool for use in K-12 schools and districts. The company provides innovative solutions for improving student learning to hundreds of schools nationally. EdCaliber is headquartered in Portland, Oregon with additional offices in California. For more information, please call 800-795-1987 or visit http://www.edcaliber.com.