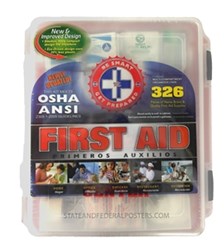 Every business needs an essential first aid kit to help ensure the workplace is safe and free from hazards.
Brea, CA (PRWEB) October 18, 2013
State and Federal Poster, Inc. is committed to providing you with excellent service and materials to help business owner's stay up to date with mandatory labor law changes in all fifty states. Now, they are proud to offer businesses affordable, quality first aid kits and safety products to help ensure a safe workplace for everyone.State and Federal Poster's new First Aid Kit with Hard Case features 326 pieces for up to 50 employees.
All of their first aid kits are OSHA and ANSI approved and meet all the state guidelines as well as type I and type II requirements. Each kit includes bandages in various sizes, ointments, alcohol prep pads, gauze, and tablets, as well as antibiotic ointment and finger splints. Ensure employees are safe in the workplace with this essential kit.