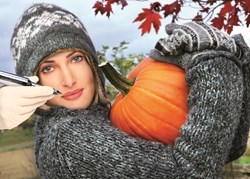 Styles change and semi-permanent make-up can change with them.
Beverly Hills California (PRWEB) October 17, 2013
Autumn is upon us! Cool weather and diminishing sunshine calls for seasonal style changes. Fall trends are typically dark, warm colors and bold, expressive features.
Long-Time-Liner® USA Inc. suggests focusing on the natural features and making them dramatic and clear before adding the fleeting trends of fall colors. Eyebrows should be groomed to suit individual style. The running trend in brows is thick, full and slightly unkempt. This can be achieved with brow brushes, powders and pencils to fill in and accentuate the natural arch.
Eyeliners are a tried and true makeup technique to enhance and clarify the eyes. Shadows can be layered under or over liners to create depth and open the eye. Lashes are often made darker with mascaras, lash extensions and tinting.
Lip shapes can be corrected and augmented with simple lip liner tricks. Start by lining the lips with a long lasting makeup pencil. Add a lipstick over that then a dot of gloss to the center to create a fuller illusion.
All of the tips and tricks above are fairly common knowledge, and often implemented daily by most women. Cutting some of these steps out of ones daily routine can free up time and allow more creativity with Fall and seasonal makeup looks.
Long-Time-Liner® USA Inc. is a specialized salon for semi-permanent Conture® Make-up. The salon offers services to enhance and balance the eyebrows, create a clear and defined eyeline, and correct lip contours and color. The basic foundation for any makeup look is to define these features, then play one up a bit more.
Semi-Permanent makeup colors are as varied as the individuals wearing it. Generally, clients will chose a natural and subtle color for lips, knowing they still have to option of layering on Lipsticks in trendy colors. Brows can be light and feathery to bold and dramatic. Styles change and semi-permanent makeup can change with them.
One of the most popular fall looks is the dramatic, bold brow, simple and clean eye, and dark, rich colors for the lips. It's a cool, clean look for those cool days and cozy sweaters.
Long-Time-Liner® USA Inc. offers special deals around the holidays. Contact the salon for more information.
Long-Time-Liner® is located in Beverly Hills California, at the heart of the beauty and luxury product center. There have been many beautiful and satisfied customers from all age groups, nationalities and personal style. Semi-Permanent Conture® Make-up can make a significant improvement to anyone's beauty. Contact the salon for more information and to book a consultation!