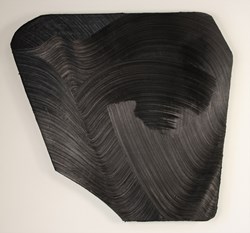 According to New York artist, James Austin Murray who creates lush, textured all-black oil paintings: "The focus in my paintings is all light...Black absorbs the full spectrum of light and what we have left is pure reflections of color."
New York, NY (PRWEB) October 16, 2013
Elisa Contemporary Art has curated Reflection and Vision – works of Black & White at 1stdibs at NYDC. The exhibit opens on October 11, 2013. It will run through November 30, 2013. Our latest exhibit explores three contemporary artists: One is working in all black, the other in all white. Our third artist, who is color blind, works in black & white.
To color theorists, black is the absence of all color. When there is no light, there is no color and therefore all is black. However, according to New York artist, James Austin Murray who creates lush, textured all-black oil paintings: "The focus in my paintings is all light. They have a reflective nature that interacts with the light around them. This makes the work subtly interactive with their environments. Black absorbs the full spectrum of light and what we have left is pure reflections of color… I'm compelled to make these paintings by my interest in light and movement, in the paint itself, and the color and character of reflective light… At times I work off-square. I let the shapes influence the paint and give it both a parameter to play with and work within."
At the other spectrum, white is the blending of all colors. California Artist, Michael Buscemi began his series of pure white paper collages in 2012. Buscemi wanted to eliminate all existing media and be left only with light, shape and shadow. He takes extra thick rag paper and with swift and fluid cuts, creates thousands of small, shaped pieces. These severed paper pieces are then built up and layered, allowing the shadows and shapes to organically form. We will be debuting a just-completed collage, Klari 2 from a new landscape series. The results are white on white dimensional artworks filled with depth, reflection and shadows.
Arizona artist, Ken Peloke is colorblind, and although this used to present a challenge for him as an artist, he has learned to control his color palette to limit his frustration. In his recent body of work, he creates photorealistic mixed media horse paintings inspired by the time he has spent with his wife's horses. The more time he spent with them, the more Ken discovered their beauty, their athleticism, and their innocence. His bold, large-scale pieces capture the pure essence of each horse – the beauty, nobility and power. His multimedia approach creates depth and incredible realism. According to Ken, "There is such an honesty and purity that is felt while spending time with our horse, as an artist I feel compelled to try to relay those same emotions to the viewers through my work."
What: Elisa Contemporary Art curates Reflection and Visions. Works of Black & White at 1stdibs@NYDC
Artists: James Austin Murray, Michael Buscemi, Ken Peloke
When: October 11 – November 30, 2013
Two Special Receptions with artist James Austin Murray:
o Tuesday, October 22nd from 3-6pm.
o Saturday, November 9th from 3-5pm
Where: 1stdibs at NYDC, 200 Lexington Avenue, 10th floor, NYC.
Hours: Monday – Friday 9:30 am – 5:30 pm, Saturday 10 am – 5 pm
Meet the Artists:
New York Artist, James Austin Murray
James Austin Murray is a New York artist. He has been exhibiting his work throughout the US since 1992.
According to James:
"The color black, the subject of my painting, is all absorbing. It's the hungriest of colors sucking all the visible spectrum into itself. The benefit of black is not only that it's so deep, but the fact that paint is a pigment suspended in a binder. Oil pure black paint absorbs the light spectrum and is also reflective. To me these paintings are not about the dark, as some have wondered aloud. They are about the light they reflect. I find them full of light and strangely bright for being black paintings."
His work is in private and public collections including the Four Seasons Hotel in Washington.
California Artist, Michael Buscemi
Micheal Buscemi was born in upstate New York. As a young child, Michael traveled all around the country with his family. In 1986 they made their home in San Francisco bay area.
According to California artist, Michael Buscemi, "I am always in search of the spontaneous forms that seem to spring from movement. I find myself always drawn to capture these forms as they emerge, caught in a moment of their evolution. I love the freedom of expression that occurs when a gesture made by me is translated to the surface I am working with. This action demands a vigorous honesty that fills me with inspiration and appreciation for the process I am engaging in. When this works well, I am filled with an inner music, the beauty of something simple, yet complex appearing for the first time, being born out of no pre-conception."
Michael's work has become part of collections throughout California, New York and Europe.
Arizona Artist Ken Peloke
Born 1978 in rural New York, Ken is the youngest of four children who were raised by a single mother. He began painting and drawing at the age of seven. His mother was usually unable to provide proper art materials, so Ken used crayons, pens, house paint, cardboard, the backside of scrap wallpaper and even the walls in the house to sketch his drawings. He and his family moved to Arizona when Ken was 9.
Private oil painting lessons and a trip to Sedona, Arizona inspired him to paint landscapes, which he painted throughout his high school and college days. At just 22 and frustrated with an undefined career path in art, Ken took what ended up being a seven year hiatus from art entirely.
The desire to pick up a brush again didn't happen until he heard the news of his first child on the way. He was going to have a daughter and a flood of new emotions filled his heart and mind.
Ken began painting abstract pieces which he explained were inspired from non subjective forms in his mind and raw energy. This presented an entirely new freedom for Ken that he longed for but never knew how to unleash. "Staring at a blank canvas with no image to reference creates an indescribable excitement for what's about to be pulled out of your mind." Ken felt there was so much that needed to come out. He is hard at work using both the subjective world and the bold abstract world together in his work. His latest pieces reflect a bit of all his background and Ken prides himself on being versatile. Ironically, Ken is colorblind, and although this used to present a challenge for him as an artist, he has learned to control his color palette to limit his frustration.
Over the past couple years, Ken has found his latest inspiration by spending time with his wife's horses. His bold, large-scale pieces capture the pure essence of the horse while still challenging his artistic talents.
Peloke's work has been featured in Western Art Collector, Western Art & Architecture and is displayed in both public and private installations throughout the U.S., including Chicago, New York, San Francisco, Scottsdale, Jackson Hole, Sun Valley, ID & Singapore.
About Elisa Contemporary Art
Elisa Contemporary Art represents a portfolio of both emerging and established contemporary artists, many of whom have work in the permanent collections of major museums and corporations.
Founded in 2007 by Lisa Cooper, Elisa Contemporary Art is dedicated to promoting the appreciation and collection of art as a way to enrich and heal our lives, our communities, and the world. The gallery opened in September 2008. Elisa Contemporary Art has participated in international art fairs in New York, Miami and the Hamptons, and curated over 12 public art exhibits in the Tri-State area. A portion of every gallery sale is donated to charities helping underserved children heal through art. We currently support Free Arts NYC, Arts to Grow and Art Therapy Outreach Center. Owner Lisa Cooper also provides art consulting services.
Elisa Contemporary Art has been featured in a number of publications including Ocean Home Magazine, Hamptons Cottages & Gardens, New York Spaces, American Art Collector and The New York Times.
For more information, visit the website at http://www.ElisaContemporaryArt.com. The Riverdale Gallery is located at 5622 Mosholu Avenue, Riverdale NY 10471.
About 1stdibs@NYDC
The New York Design Center and 1stdibs.com have joined forces to create 1stdibs at NYDC. This revolutionary gallery space provides 1stdibs with its first physical presence in the marketplace, and changes the dynamic of this once design-trade-only building into a progressive, all-inclusive design resource. An eclectic mix of over 54 1stdibs® dealers from all over the country, as well as several international dealers, occupy the entire tenth floor of the NYDC with 33,000 square feet of fine antiques and 20th-century design.
About the New York Design Center
Located at 200 Lexington Avenue, The New York Design Center is the industry's premier resource for fine furnishings. Built in 1926 as the New York Furniture Exchange, the NYDC was the dream of visionaries in the furniture industry. Today, the New York Design Center's rich history enhances its reputation as a respected resource for imaginative solutions to any design challenge. Representing avant-garde, contemporary innovations as well as classic creations, the NYDC is committed to remaining at the forefront of design. The Design Center houses over 33,000 square feet of antiques and 20th century design from 1stdibs® dealers as well as Access to Design™, a program that assists consumers in navigating the design process. To learn more, visit http://www.nydc.com.