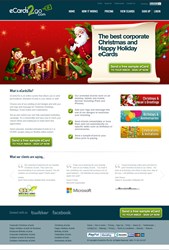 Schedule your holiday ecard campaign ahead of time to avoid the last minute rush.
(PRWEB) October 17, 2013
As one of the leading providers of premium HTML5 animated corporate holiday Ecards, http://www.eCards2go.com have been working hard to increase their range of iPad and mobile-friendly corporate Christmas Ecards.
Managing Director Michael Hiscoe commented: "Our customers demanded a broader range of corporate holiday Ecards and we listened. Our new collection of Christmas Ecards are creative, unique and were designed specifically for business customers both large and small. We had great success with our HTML5 Ecards in 2012 and look forward to another bumper year!"
The eCards2go.com online system offers a unique set-and-forget function to help avoid the last minute rush. Your entire holiday Ecard campaign can be set up, fully tested and scheduled to be sent out on any date of your choice closer to Christmas. With your Christmas Ecard campaign organized and scheduled ahead of time, it's one less task to worry about.
Along with their larger collection of corporate Ecards comes a new and improved online system to support full Ecard customization. Michael Hiscoe went on the say: "Our Ecards have always been able to include a company logo and message but this year we're very excited to offer the ability to personalize every Ecard for each individual recipient. Last Christmas we received requests for individual Ecard personalization from a large number of businesses so we just couldn't ignore the demand. Listening and responding to our customers' needs has always been a major part of our future growth strategy."
Along with corporate holiday Ecards, eCards2go.com also offers e-cards that can be sent to clients or staff for other occasions throughout the year. Ecard categories include employee birthday Ecards, business celebration & event invitation Ecards, club membership renewal Ecards and company anniversary Ecards.
The eCards2go.com do-it-yourself online system is easy to use and you won't be able to resist sending yourself a fully customized test Ecard in a few quick clicks. Don't forget to check out http://www.ecards2go.com which showcases their entire collection of corporate Ecards.