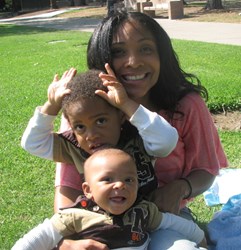 Especially valuable for first-time mothers, even [readers] who aren't parents will be inspired by the honesty of this life-affirming, real-world book.—Anna Jedrziewski, Retailing Insight
(PRWEB) October 16, 2013
Kuwana Haulsey will celebrate the release of her new cross-genre title, Everything I Needed to Know I Learned from My Six-Month-Old, with a launch party and book signing in Culver City, October 19 and 20.
Kuwana Haulsey, who was recently featured as the "Book Brahmin" on Shelf Awareness, fuses memoir, spirituality and self-development into the unique perspective that babies are actually extraordinary spiritual teachers who are capable of showing their caregivers the way toward inspired living. Haulsey began writing this project as a love story between herself and her newborn son. However, as the book progressed, it began to reveal itself as something even deeper than that—a story of growth, transcendence and awakening. The book has the potential to speak directly to women everywhere who have struggled to reassess their identity, find balance and live richly—even in the midst of baby-induced chaos.
Upcoming Events and Appearances with Kuwana Haulsey:
10/16 1pm PST interview on Chi for Yourself (radio)
10/19, 1-3pm, Agape Quiet Mind Bookstore Launch Party, Culver City, CA
10/20 Agape Quiet Mind Bookstore Book Signing, Culver City, CA
What people are saying about Everything I Needed to Know I Learned from my Six-Month-Old:
"Especially valuable for first-time mothers, even [readers] who aren't parents will be inspired by the honesty of this life-affirming, real-world book."
—Anna Jedrziewski, Retailing Insight
"An incomparable storyteller, Kuwana allows us to see our own stories embedded within her personal tale. The wisdom, humor, and love she so wholly expresses will encourage us all to cherish the blessing and practice of sacred parenting."
—Michael Bernard Beckwith, founder of the Agape International Spiritual Center
Kuwana Haulsey is the author of the critically acclaimed novels, Angel of Harlem and The Red Moon, which was a 2002 finalist for the Zora Neale Hurston/Richard Wright Legacy Award for Debut Fiction. Born and raised in New York City, she graduated with a bachelor's degree in journalism from Rutgers University magna cum laude and Phi Beta Kappa. Kuwana has led seminars for the PEN/Faulkner Foundation in Washington, D.C., and at Rutgers University. She's taught writing at UCLA and Agape International and is also an actress currently living in North Hollywood where she co-teaches classes on spirituality with Reverend Michael Beckwith.