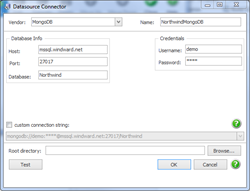 'We use the official MongoDB Java and .NET drivers provided by the MongoDB team for best performance and reliability.' - Erik Hunter, developer at Windward
Boulder, CO (PRWEB) October 17, 2013
Windward, a leader in reporting software and document generation software, has announced new tools that support MongoDB reporting and document generation. Businesses and other organizations with big data stored in MongoDB databases can now use the template design tool AutoTag 12.5 or later to gain better insight into vital information.
"With more than 90% of the world's data being created in the last two years alone, being able to access and make sense of big data has become increasingly important," said David Thielen, Windward's founder and CTO. "Being able to do so with a flexible MongoDB reporting tool like AutoTag is a big plus."
Using Windward, companies insert their MongoDB data into templates designed in Microsoft Office via the new MongoDB Wizard. The MongoDB wizard makes selecting data easy via an intuitive click-and-drag interface similar to Windward's SQL and OData wizards.
Reports and documents are then generated in the Windward Engine, which is available for .NET or Java, or via the web-based Javelin server. The final product can be output in a wide range of formats, including DOCX, XLSX, PDF, HTML, direct to printer, RTF, XLS, WordML, TXT, and CSV. In addition to MongoDB, Windward solutions directly support data stored in SQL databases, XML files, Excel spreadsheets, SharePoint lists and REST databases.
"We use the official MongoDB Java and .NET drivers provided by the MongoDB team for best performance and reliability," said Erik Hunter, developer at Windward. "The Windward MongoDB drivers have been designed to deviate from the JavaScript-like query language as little as possible. We even provide support for the very powerful mapReduce functionality that MongoDB exposes."
For more information, please visit Windward's MongoDB documentation.
About Windward
Windward delivers powerful reporting, document generation and business intelligence solutions for enterprise or OEM use. Businesses worldwide create custom reports better, faster with data intelligence made easy. Windward has been delighting customers – technical and non – since 2004. http://www.windward.net