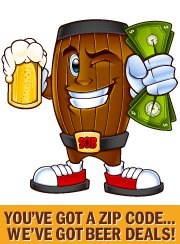 It's really a price-assault on the American people.
Houston, TX (PRWEB) October 17, 2013
SaveOnBrew.Com, the word's only beer price-search engine, has released their annual infographic of NFL stadium beer prices and trends. SaveOnBrew was created to help consumers make more informed decisions regarding their beer purchase. The NFL study is just an extension of their quest to help Americans find better beer for less.
The average beer is 16.5 ounces and will set a fan back $7.03, the same as last year.
"It's really a price-assault on the American people," explains SaveOnBrew's Mark Davidson. "Even though my home stadium, Reliant Stadium, is quite the bargain at 42 cents per ounce, we're still big proponents of tailgating. Right now I can get a 12-pack of Tecate for $9.99 from Foodarama in Houston, which is the cost of about one-and-a-half cold ones at the game. The savings is much, much greater at the more expensive stadiums like Ford Field in Detroit."
According to SaveOnBrew research, captured on this infographic, the best places to buy beer in the NFL include: Bank of America Stadium in Charlotte, NC ($6/beer, 22 cents/oz); Mercedes-Benz Superdome in New Orleans ($8.50/beer, 35 cents/oz); and Sun Life Stadium in Miami ($7.00/beer, 35 cents/oz).
By contrast, the worst places to buy beer in the NFL include: Ford Field in Detroit ($8/beer, 67 cents/oz); AT&T Stadium in Dallas ($8.50/beer, 53 cents/oz); and Heinz Field in Pittsburgh ($8.00/beer, 50 cents/oz).
"We're also on the lookout for major price increases and trends at NFL stadiums," explains Davidson. "Very rarely do we see prices go down, but this year, we'd like to commend Bank of America Stadium, Sun Life Stadium, Lucas Oil Stadium as well as a host of others for actually lowering the cost this year.
Of course, if the average stayed the same as last year, some stadiums must of increased their prices. "Yeah," said Davidson, "Ford Field in Detroit jacked their prices up twenty-four cents an ounce over last year. Those sort of increases are hard to swallow, pun intended. While we realize Ford was one of the companies not to take government money, sometimes we wish big business would just think about giving back to the fans just a little bit. And what better way to say it then reasonably priced beer?"
The full infographic can be viewed at SaveOnBrew.com. Consumers can also enter their zip codes for a listing of local retailers with the lowest beer prices and best deals in their area. Any beer enthusiasts in the Houston area are invited to visit the SaveOnBrew tailgating tent at Reliant Stadium for free merchandise.
About SaveOnBrew.Com: Founded in 2010 to help thirsty beer drinkers across the United States find the lowest advertised prices for one of the world's most popular beverages.