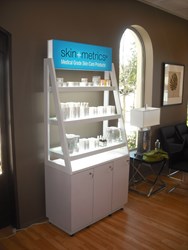 The medical office has a unique advantage over a local pharmacy, mass retailer, or on-line competition.
Hartford, CT (PRWEB) October 17, 2013
Doctors who dispense products within their practices have depended on MicroPharmacy Corp. to handle the laborious task of inventory control. With more than a decade of experience within the plastic surgery, dermatology, bariatric and chiropractic fields of medicine, MicroPharmacy Corp. is ushering medical offices into the world of retail.
President & Cofounder, Peter Kostka, explains, "Medical practices have battled losses in revenue far too long. We ask physicians and practice managers everyday, 'where are your profits hiding?'"
Storing vast amounts of SKU's proves problematic. Most offices tuck away inventory making it inaccessible when the buying opportunity presents itself. "It isn't easy to convince a doctor to merchandise or retail the very products they invested thousands of dollars in to provide for their patients," suggests Petr Klima, MicroRetail strategist for MicroPharmacy Corporation.
Early adopter, plastic surgeon Alan Kisner, M.D., of New York, offers his retail success story, "Our patients are thrilled to have skin care product knowledge at their fingertips. We found that the MicroPharmacy Medi-Store exceeded our expectations so we are now installing a second unit in our Plastic Surgery Suite."
The slim-lined MicroPharmacy Medi-Store display offers an elegant kiosk for patients to peruse product offerings. "We know the medical office has a unique advantage over a local pharmacy, mass retailer or on-line competition. The patient may browse, sample or test products recommended by their physician right then and there," continues Mr. Klima. "When placed in the waiting room the Medi-Store becomes the product ambassador."
Dr. Ted Lain of Steiner Ranch Dermatology based in Austin, TX speaks from experience. "The Medi-Store not only highlights products but also elevates my own brand to the status of nationally-known skin care lines. I have been very impressed with the increased attention to my products in our reception area."
The retail "makeover" isn't the only point of difference. MicroPharmacy Corp. identifies retail real estate within the office, provides tools to manage inventory and the platforms to showcase products. Mr. Kostka summarizes, "With three years of data since our retail program started, we can identify practices rapidly increasing retail sales over traditional practices that have yet to adopt the MicroPharmacy Medi-Store model. This was clearly evident during the current downturn in purchasing trends. The turn-key approach allows the practice to improve profitability, eliminate gaps, and support business decisions based on information."
MicroPharmacy is the global leader for in-office dispensing, creating and managing retailing environments within the medical office for more than 10 years.
WEBSITE: http://www.micropharmacy.com
PHOTO BLOG: medistore.micropharmacy.com
Contact:
Jennifer Barnes
Vice President – Sales & Marketing
MicroPharmacy Corp.
Direct: +1 (562) 810-3142