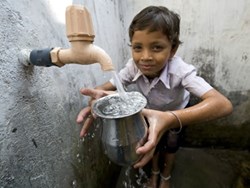 Los Angeles, CA (PRWEB) October 16, 2013
Hackman Capital Partners announced this month their collaboration with Focusing Philanthropy, a Los Angeles-based nonprofit that identifies, evaluates, and promotes compelling opportunities for personal and corporate giving.
As the inaugural Corporate Partner of Focusing Philanthropy, Hackman Capital Partners supports the organizations and programs Focusing Philanthropy showcases through contributions to individual philanthropic projects, discretionary funding, and by encouraging other individuals and organizations to join in this philanthropic endeavor.
"At Hackman Capital Partners, I am surrounded by a team of professionals who share a passion for excellence and philanthropy," stated Michael Hackman, Founder and Chief Executive Officer of Hackman Capital Partners. "Our goal is to maximize our impact locally and globally, and Focusing Philanthropy's emphasis on diligence, ongoing monitoring and vigilant pursuit of leveraged impact resonates with our firm. It is great to find a way to pursue philanthropic goals with such confidence," said Hackman.
Focusing Philanthropy was founded by Larry Gilson following 20 years in which he founded and led GFI Energy Ventures, a multi-billion dollar Los Angeles-based private equity firm. "We created Focusing Philanthropy because we believed that, like ourselves, many other individuals and companies wanted to be more strategic in their giving but lacked the confidence that only comes from close scrutiny and ongoing monitoring of nonprofits by a credible independent party," explained Gilson. "Focusing Philanthropy fills what we saw as a gap in meeting that need, especially for smaller but extraordinary nonprofits that are not on everyone's radar."
The processes employed by Focusing Philanthropy for seeking out, diligencing, and continuously monitoring nonprofits are adapted from those Gilson developed and oversaw in the course of his investment career during which he and his team acquired 65 companies and looked closely at hundreds more. Having reviewed over 300 nonprofits, only 16 have thus far been included in the highly selective list Focusing Philanthropy showcases and supports.
To learn more about Focusing Philanthropy and how you can get involved, please contact us or visit http://www.focusingphilanthropy.org.
##
More About Hackman Capital Partners
Founded in 1986 and headquartered in Los Angeles, Hackman Capital is a privately held, asset-based investment firm that focuses on the acquisition of industrial real estate and the purchase and sale of industrial equipment. The firm currently owns, through its affiliated entities, more than 270 facilities throughout the United States, totaling 25 million square feet and more than 20,000 acres of developable land. Hackman Capital also has conducted hundreds of equipment acquisitions, dispositions, and liquidations on four continents. With more than 27 years of experience in acquisition, redevelopment and asset management, Hackman Capital is known across marketplaces for its ability to successfully navigate complex transactions and financial restructurings involving real estate and equipment. The company is based in Los Angeles and oversees its Midwest, Mid-Atlantic and Southeast operations, from its regional offices in Columbus, Ohio and Boston, MA. For more information, visit http://www.hackmancapital.com.
More About Focusing Philanthropy
Focusing Philanthropy identifies, evaluates, and promotes compelling opportunities for personal and corporate giving. Supported nonprofits help to achieve sustainable improvements in the quality of life for people with great, unmet need and to develop vital resources in the poorest communities. Areas of focus include increasing access to medical care, education and job training, clean water, agricultural productivity, mental health services, and other core needs.
Focusing Philanthropy is itself a nonprofit. All donations made through Focusing Philanthropy are tax deductible and 100% of all funds donated through Focusing Philanthropy go to the showcased recipient organizations.