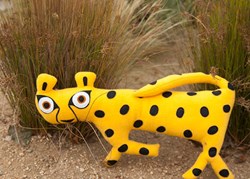 This is not your typical Plush and this is NOT plush made in China
Venice, Califorina (PRWEB) October 16, 2013
Indy Plush, the makers of unique eco-friendly dolls and clothing that "Saves the world a doll at a time" has launched a made in the USA "Endangered Species" plush doll collection that gives 20% of its profits to non-profit organizations that help protect endangered animals.
Indy Plush handcrafts plush dolls in Los Angeles, California. It sources fabrics in the USA. It uses filler made from recycled plastic water bottles that are melted down and spun like cotton candy that feels like silk. Indy Plush also places its doll designs on made in the USA clothing.
Indy Plush is American Green certified organization that has received the Sage Award for environmentally friendly consumer products. Sold in prestigious boutiques like The Blvd Shop at LA Live, Ritz Carlton Hotels, Surf and Sand, Seed, Leon & Lulu, the Santa Barbara Art Museum, and the Malibu Beach Company, Indy Plush collections reflect the edginess of design that young and hip consumers want today.
If you want a unique holiday gift—Halloween, Dia de Los Muertos, Thanksgiving, Christmas, Hanukkah, or Birthday—I am sure you will find something adorable in one of its collections: The Farm, Monsters, Holiday, Endangered Species, or Sea Life. This is not your typical Plush and this is NOT plush made in China. These dolls show an exquisite quality that is making Museums take notice, architectural design firms include them in their décor, and children convince their parents to spend that extra money to let the world know that it is possible to change the world one doll at a time.
For more information check out http://www.indyplush.com or contact us at 310-902-1651