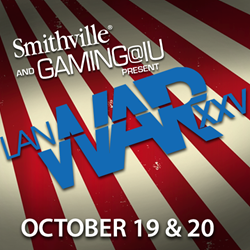 I was awestruck by Smithville's fiber platform...it's really an insanely fast network.
Bloomington, Indiana (PRWEB) October 16, 2013
Twenty-four straight hours of high-speed digital action will be the fare for hundreds of gamers taking part in the 25th Lan War organized by the IU Gaming Club and sponsored by Smithville Communications. The event, which will take place October 19-20 at the Monroe County Fairgrounds, pits a "huge group of gamers" against each other in digital action, according to Kevin Stubbeman of IU Gaming.
The main theme of the 2013 Lan War is a "red vs. blue" cold war-type concept. Gamers choose a side upon registering and various situations during the event will depend on the standings of that side.
The venue, featuring broadband speeds at more than 360 Mbps on a full fiber platform, will allow up to 450 local gamers to play on desktop machines and consoles. The high-speed fiber provided by Smithville allows gamers "unprecedented game speed, action and downloads; it's really an insanely fast network," said Stubbeman.
"Last fall I was worried about Steam downloads slowing down the network, but a 380 Mbps speed test later, while 300 gamers were downloading multiple games from Steam at 10-plus mbps, I was awestruck by Smithville's fiber platform," said Stubbeman. "This high-tech speed provides for an outstanding gaming experience and really sets this event apart from other Lan Wars."
This is the fourth time Smithville will be sponsoring the event and the second time to be providing its signature fiber speed, according to Rob Ramsey with Smithville. Smithville is expanding its previous video coverage of Lan War by providing live broadcast coverage with multiple cameras using Smithville's new Tricaster 8000 editing suite. "This coverage adds to the excitement and buzz of 450 gamers competing at their best," said Ramsey. "We're looking forward to providing this service."
The event will air live on the Internet on the popular game streaming site at http://www.twitch.tv.
In addition to local gamers, the Bloomington-based event attracts many industry professionals from hardware manufacturers to game producers. The event will also include an area for traditional board games and a section where participants can test new peripherals and gaming hardware.
Price to enter: $20 per gamer. Entry price includes free food and drinks, an event T-shirt and a chance at various prizes. Gamers should sign up at http://www.iugaming.com.
About Smithville: Founded 90 years ago as the Monroe County Telephone Company, privately owned Smithville Communications is now Indiana's largest independent telecom company. Smithville has deployed more than 2,500 miles of all-new fiber connectivity in its ongoing Fiber-to-the-Premise (FTTP) service offering, which at 1+ Gbps provides the fastest connectivity available in Indiana. Its subsidiary Smithville Telecom provides fiber-based connectivity, data consulting, network management and managed services for businesses, university campuses, biotechnology companies, healthcare providers and government offices in southern and central Indiana. For more information, please visit http://www.smithville.net.