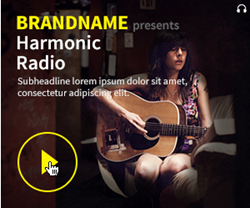 By branding musical experiences online, advertisers can now connect directly with consumers, and consumers get the musical content they love.
NEW YORK, NY (PRWEB) October 16, 2013
F#, the digital music advertising pioneer, launches today with the mission to programmatically integrate music into online advertising. F#, pronounced "F Sharp" after the music note, enables agencies, brands and record labels to build and deploy their own music-powered online ads using its now-available F# Platform. F# ad experiences can be distributed on popular social platforms, including Spotify and Facebook, or anywhere on the web via the AdPlayer™, F#'s revolutionary music-playing ad unit.
Music Playing AdPlayer
For the first time ever, online ads distributed through ad networks can play music. AdPlayer puts campaign-specific music front and center by providing consumers with content they are more likely to engage with wherever they are. On websites, AdPlayer plays right inside the ad—no need for downloads or link outs to other locations. Want to browse to another page? Users can pop out the AdPlayer to keep listening, and share it on Facebook where playback continues.
AdPlayer is available in two options:

Sponsored Radio – AdPlayer uses F# Music Intelligence to develop a sponsored, DMCA-compliant radio with brand-targeted music. F# and its partners handle the music royalties, so brands can stay focused on integrating the AdPlayer into their campaigns.
Exclusive Music – Brands and labels can select the perfect songs they have rights to – including exclusive songs not available anywhere else or an entire playlist – and feature them in the AdPlayer.
"AdPlayer solves a real problem in online marketing by allowing advertisers to mesh their brand with the music loved by the target audience, generating far superior yields and effectiveness," said Alice Enders, Enders Analysis.
AdPlayer is just the latest example of an F# product that creates a more rewarding experience for users, by leveraging the right music to reach the right audience. By tapping into its extensive collection of historical data, F# Music Intelligence spots trends and identifies the music brands should use to drive higher engagement.
Spotify Ads and the F# Platform
Spotify is a world leader in digital music streaming, and for almost two years, F# has worked alongside Spotify as its preferred vendor in more than twenty countries around the world. During that time, F# developed four highly engaging ad products that have been used hundreds of times by the world's preeminent advertisers. Now, for the first time, companies can easily create their own Spotify ad experiences based on these products using the F# Platform or F#'s APIs. The SaaS-based platform allows anyone to upload design assets to create their own ads for Spotify, Facebook and microsites in a Do-It-Yourself manner. The F# Platform removes the need for costly and time-consuming software development and can build an ad experience ten times faster than through traditional methods.
Today's launch also introduces four unique F# solutions: Strategy, Reach, Connect and Results. F# Strategy uses data-driven analysis to assist companies to discover and develop the right music-based digital ad experiences. F#'s Reach and Connect ad products — including the AdPlayer and popular products like the Crowdsourced Playlist and Music Analyzer — allow brands to engage with their target audience across multiple screens. Finally, F# Results provides customized reports and recommendations advertisers can use to enhance their next campaign.
"There's an incredible opportunity for advertisers to utilize music in their online campaigns, both through digital media buys and on the digital music services themselves. In recent years, advertisers have flocked to social media, and now digital music is destined to be the next wave in online advertising," said Dan Merritts, CEO and Co-Founder of F#. "By branding musical experiences online, advertisers can now connect directly with consumers, and consumers get the musical content they love."
About F#
F# is the emerging leader in digital music advertising, leveraging the power of music to create rewarding online experiences. F#'s AdPlayer plays music inside an IAB standard ad unit. Working with Fortune 500 brands and their agency partners, F#'s technology platform allows for rapid development and implementation of advertising solutions across the web and on various music and social media services, including Spotify and Facebook. Tens of millions of people in more than 20 countries have interacted with F# powered ad campaigns through desktop, mobile, tablet and more. To learn more, please visit: http://www.efsharp.com.