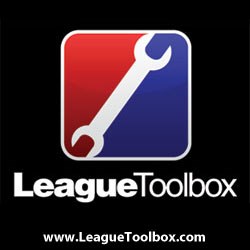 This is our 4th year with LTB and things have been considerably better for our league since we started. Every year they improve the software that really makes our league run so well! Mark, Sudbury
(PRWEB) October 17, 2013
NEW LEAGUETOOLBOX ATTENDANCE FEATURE IS LIVE!
Many league participants have asked for this feature for a while and LeagueToolbox is happy to announce that Players\Parents now have the ability to add their anticipated Attendance for each Game and Practice.
Chris Christie noted, "Players\Parents will now have a new tab on their Profile Page called "My Attendance". On that page it will list every Game and Practice for the teams they belong to. They can now easily indicate their anticipated attendance by clicking the "checkmark" for yes, "X" for no, or "?" for unknown. We are so excited about this amazing new feature and we know leagues are going to be blow away by it."
Christie added, "There is also an additional option that Leagues can turn on via "Control Panel - Division Setup" or individual Coaches can turn on via "Control Panel - Team Setup" where the system will automatically send an Attendance reminder email with a clickable link embedded. This email will ask the Player\Parent to indicate if they are coming to the Game or not. By clicking the link in the email, the result is recorded. If enabled, these emails will be send 7 days, 3 days and 24 hours before each event."
"Coaches can also now easily see WHO is attending and not attending each Game and Practice. They can see this information through the Admin site in "Schedule & Game Manager - Player Attendance." This will give them a list of each Game and Practice and display a list of all Players and their current Attendance. It also gives totals and even breaks them down by Gender which is helpful for the Co-Ed Leagues. This part of the feature is valuable in so many ways," Chris noted.
"Coaches will also get an Email 24 hours before each Game that gives them a quick summary of how many Players are Attending and Not Attending. As well, all Coaches will also get any update emails if any Players CHANGE their availability within 24 hours of a Game or Practice. This feature was designed to be simple, yet should be a powerful feature in helping to prevent game "defaults" because of Player shortages and coaches time by knowing who will and will not be at the game."
Christie said this feature came at just the right time as leagues prepare for 2014 seasons.
Christie wants to remind leagues that t is not too early to start planning their 2014 league registration and that the LeagueToolbox support team is their to help. Take advantage of of their team of experts who are waiting to help make the process as smooth as possible for each and every league!
Email us, call us or hit us up on live chat to set up a time that works for you. Don't leave to the last minute. Act Now!