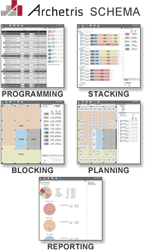 Interactive stacking makes so much sense! It's so much easier to have the program directly linked to the stacking diagram and it helps eliminate mistakes. - Melissa Pesci AIA, Project Architect, ASD Inc.
San Francisco, CA (PRWEB) October 17, 2013
Time spent figuring out design software is time not spent on design. Archetris was founded on the belief that the human mind is the best design tool there is. The less it's needed to figure out software, the more available it is for other tasks - like design. Launching today: Archetris SCHEMA, brilliantly simple programming and schematic design software with a SaaS licensing and delivery model. SCHEMA is built with a modular structure mirroring the early design stage tasks. The software has a lightweight, easy to understand interface and a natural workflow that eliminates the need for data rekeying with each task. Designers can move seamlessly between programming, stacking, blocking, and planning with one set of data. The resulting productivity gains have the potential to save design firms hundreds of thousands of dollars. With its cloud-based delivery, SCHEMA can be accessed anywhere there is a browser and an internet connection. SaaS distribution eliminates infrastructure and upgrade costs, increases licensing flexibility and puts the remaining expenditures in operating expenses.
About Archetris:
Archetris Inc. is a San Francisco-based software company whose first product, SCHEMA, seeks to transform early design phases. Archetris was founded in 2012 by Bryan Almquist. Mr. Almquist is an industry veteran with more than 20 years experience in the architecture and information communities. Before founding Archetris, he served as Director of Information Technology for IA | Interior Architects.
Better design in less time at less cost is brilliantly simple with SCHEMA.
Archetris
http://www.archetris.com
+1 415 758•2724