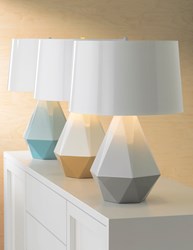 This new collaboration will hopefully be the first of many exclusive product partnerships from Lamps Plus.
Los Angeles, California (PRWEB) October 21, 2013
For more than three decades, leading lighting retailer Lamps Plus and prominent lighting wholesaler Robert Abbey have partnered to provide consumers exceptional style and value. To celebrate their relationship and shared growth they will introduce three limited edition Delta Duo table lamps. The three lamp designs will premiere at the Robert Abbey Showroom at Highpoint Market in North Carolina on October 21, 2013. The product will be available to consumers exclusively at LampsPlus.com.
The Delta Duo lamp is made in the USA at the Robert Abbey factory in Hickory, North Carolina. Based on the iconic Delta lamp, the new Delta Duo designs introduce a distinctive two-tone glaze that is hand-applied to the faceted ceramic base. The three color block options are taupe and gray, light and deep turquoise, and lily and metallic gold. Each design is topped with a color-coordinated finial and off-white gloss paper shade lined in lustrous metallic foil.
The new colors and designs are the result of a close collaboration between Lamps Plus and Robert Abbey design teams, and illustrate the dedicated craftsmanship of the Robert Abbey factory team.
"At the heart of it, we prefer to work with partners that operate one step ahead of trends and can execute quickly on producing these designs for our consumers. Robert Abbey has always been a consistent and reliable partner in this sense, combining great design and craftsmanship with great value," explains Dennis Swanson, CEO of Lamps Plus. "This new collaboration will hopefully be the first of many exclusive product partnerships for LampsPlus.com."
While maintaining their family owned and operated ethos, the companies have grown synergistically through the years. Lamps Plus adapted early on to meet online shopping demand and Robert Abbey in-turn quickly responded to make new designs readily available on LampsPlus.com. The results speak for themselves: Lamps Plus is now ranked one of the top home furnishings e-tailers in the nation, and Robert Abbey is now recognized for delivering fashion-forward design at affordable prices. The relationship between the two companies also underscores a shared recipe for success: keeping the customer central to the business.
"We believe the growth of both companies is attributable to a simple commitment to providing customers with the utmost quality, style, selection and price," explains Swanson. "In that regard, we view the Delta Duo table lamp collaboration as a celebration of the values that landed us both where we are today and that will continue to guide us into the future."
Ken Wilkinson, CEO of Robert Abbey, Inc. notes, "Lamps Plus has been a great partner for many years. We take great pride and pay close attention to detail when designing new product and strive to be on trend. Lamps Plus recognizes this about our company and has been an integral partner in bringing our product to the market quickly."
The nation's largest selection of Robert Abbey designs can now be found at LampsPlus.com, including lamps and fixtures by celebrity designers Mary McDonald and Jonathan Adler. Today, Robert Abbey is synonymous with on-trend style, making the company and its iconic Delta table lamp a designer household favorite.
The limited edition Robert Abbey Delta Duo lamps can be purchased exclusively at LampsPlus.com for $166.91 while supplies last.
About Robert Abbey, Inc.
Robert Abbey has been designing and manufacturing fine lighting products since 1948. Our design studios, corporate offices and 350,000 square foot factory are located on a 22 acre campus in the picturesque foothills of North Carolina. Much of our extensive product line is entirely made in the U.S.A. At Robert Abbey, design is our passion. We work tirelessly to bring customers the most updated merchandise with the highest quality standards at the best prices possible. Visit the official Robert Abbey website: RobertAbbey.biz.
About Lamps Plus
For more than 30 years, Lamps Plus has been synonymous with excellence in the retail lighting industry. Established in 1976, Lamps Plus is the nation's largest specialty lighting store, with more than 40 superstores throughout the western United States. In 2013, LampsPlus.com was named a Top 10 Housewares/Home Furnishings e-tailer and a "Hot 100" world's best retail website by Internet Retailer Magazine. Together with its retail locations, the company serves customers nationwide with the largest selection of functional and decorative lighting fixtures, accessories, furniture and home decor. This selection includes hundreds of products, ranging from traditional chandeliers to the latest in home decor, available exclusively from Lamps Plus. The company also holds several patents for innovative lighting. Services offered include in-home lighting consultations, in-store workshops and installation from expert, licensed electricians. American Lighting Association certified designers are available to offer product recommendations and advice in all our stores, by phone or online at LampsPlus.com. The Lamps Plus family of websites also includes 55 Downing Street, Lighting Luxury Style, Builders Discount Lighting, and Lamps Plus Open Box. Visit the official Lamps Plus website: LampsPlus.com.