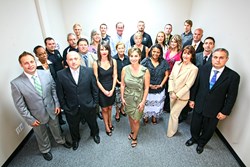 "Smartland believes deeply in Northeast Ohio's economic renaissance"
Highland Hts,Ohio (PRWEB) October 23, 2013
Smartland, http://www.Smartland.com, a premier provider of real estate investment and management services, recently announced that it has purchased Lee-Yorkshire Apartments, a complex located in Cleveland Heights, one of Cleveland's most desirable suburbs in terms of public transportation, safety, education system, amenities and resident services.
The purchase is an addition to Smartland's already expansive portfolio of commercial and residential properties, and is part of Smartland's years-long commitment to bringing affordable housing to Northeast Ohio.
"Lee-Yorkshire Apartments offers the perfect mix of affordable rent and well-managed housing that Cleveland-based tenants—and Ohioans in general—appreciate and have come to expect from Smartland," said Vadim Kleyner, Chief Executive Officer of Smartland.
Besides its pristine settings and the desirable neighborhood, the Lee-Yorkshire complex is close to the well-known Cedar Lee movie theater and other famed Cleveland hallmarks, such as the Lopez restaurant, Cleveland Clinic, Cleveland State University, Case Western Reserve University and University hospitals.
Lee-Yorkshire Apartments feature gorgeous and spacious one-bedroom and two-bedroom units, with hardwood floors throughout and ceiling fans for extra comfort.
In addition to the affordable rent, future tenants will relish the roomy walk-in closets; the well-equipped kitchens with built-in cabinets, stoves and refrigerators; and the full baths giving a more open and airy atmosphere to the apartments. Future residents will also appreciate amenities as diverse as covered parking, cable-ready functionalities in apartments, and a laundry facility. Lee-Yorkshire Apartments also provide a safe environment for future tenants with a well-lit, double-door entrance.
"Smartland believes deeply in Northeast Ohio's economic renaissance, and is committed to providing high-quality, affordable housing to help families and businesses make the transition necessary to establish stable communities, provide employment to residents and increase Cleveland's tax base in the short and medium terms," added Kleyner.
"Over the last several years, we have restored hundreds of houses in the Cleveland area and have successfully helped reduce vacancy rates throughout Cleveland. We will continue to identify, restore and purchase properties that meet our investment and quality standards."
About Smartland
Smartland is Cleveland's largest real estate investment firm as well as one of the premier property management companies in Ohio. Smartland customizes services to clients as diverse as seasoned entrepreneurs, young professionals, retirees and people in academia. At Smartland, the team combines financial savvy with expertise in property management to help clients identify and invest in properties that have strong growth potential. To help clients make informed investment decisions, Smartland provides various services—including renovation services, property management and investment analysis—along with planning tools and investment opportunities.
Press Contact
Elisabeth Gesis
elisabeth(dot)g(at)smartland(dot)com
216-287-0785