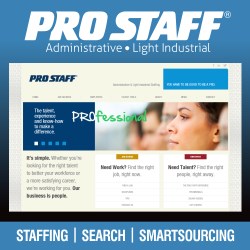 With the launch of the Pro Staff site, we are continuing an initiative begun nearly a year ago to build new online infrastructure in support of all our brands. --Clay Morel, President and CEO, Atterro Human Capital Group
Minneapolis, MN (PRWEB) October 21, 2013
Pro Staff, a division of Atterro Human Capital Group, announces the launch of its new Website: ProStaff.com. The firm, which focuses on administrative and light industrial staffing, provides experienced talent for short-term temporary work, long-term projects, temporary-to-direct hire and permanent direct hire placements in jobs as varied as assemblers, call center representatives, executive assistants and quality control technicians, including management-level positions. Offices are located throughout the Twin Cities metro area, Greater Minnesota and Texas, as well as in Kansas City and Des Moines.
The new ProStaff.com allows employers and job seekers to easily navigate to information relevant to their needs. Tips for writing a resumé or preparing for an interview, a talent toolbox for current Pro Staff workers, and salary guides for each of the US regions served by Pro Staff, are among the new enhancements offered on the site.
"Each of our Atterro divisions will soon have a Website specifically tailored to the business needs of its customers and the employment goals of its talent," states Clay Morel, President and CEO of the Atterro Human Capital Group. "With the launch of the Pro Staff site, we are continuing an initiative begun nearly a year ago to build new online infrastructure in support of all our brands. I'm very pleased with its updated look and I believe that the online experience for all our visitors will be significantly improved."
Visit http://www.ProStaff.com to see what's new.
Atterro Human Capital Group offers interim staffing, search and SmartSourcing services to local, regional and national customers. Atterro's experienced industry professionals utilize the latest research, recruiting technology and assessment tools to serve clients through its six specialty brands—Blue Edge RPO for Recruitment Process Outsourcing; Digital People for Creative, Interactive and Marketing; Hunter Hamilton for Finance and Accounting; Pro Staff for Administrative and Light Industrial; Technical ProSource for Information Technology; and Ware Technology Services for Engineering. Visit http://www.atterro.com.
Contact:
Steve Brentlinger
Marketing Director
email: Steve(dot)Brentlinger(at)atterro(dot)com
ph. 612‐373‐2600