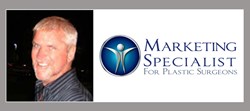 You are a Plastic Surgeon. Let me help you promote your name as a local expert in Plastic Surgery in all the media channels. I'm Craig Stephens, a Plastic Surgeon Marketing Specialist.
Key Largo, Florida (PRWEB) October 19, 2013
MarketingSpecialistsForPlasticSurgeons.com, a web startup that helps plastic surgeons improve their client lists and eliminate unwanted procedures, will go live today. The founder and CEO of Marketing Specialists for Plastic Surgeons, Craig Stephens, sees his techniques as a revolutionary new process which helps plastic surgeons develop stronger and more lucrative practices.
"Mastering the preferred procedures and marketing your practice as an expert in those preferred procedures is more lucrative when your marketing is consistent," says Stephens. "I help develop that consistency for plastic surgeons across the country."
"Of course," he continued, "it's more than just consistency that's important. I've found that practices that focus on one or two procedures and become especially known for them are just more capable at attracting new and better clients. This is a way better approach than offering a menu of lower-end, revolving-door services."
Stephens believes that his marketing techniques will not only usher in improved clients for his surgeons, they'll protect the surgeon from poor feedback. According to an article published in Scientific American, doctors and surgeons are busier than ever before, and this can "prevent them from fully discussing treatment options with patients." Stephens says that by helping practices manage and control the number of low-cost jobs like Botox and others, he can drastically improve the jobs and lives of the surgeons he works with.
Patients that feel rushed through a process may be more likely to leave a poor review on any number of internet feedback sites. This can have a detrimental effect on a practice and a practices bottom line. According to Stephens, this isn't because the surgeon is uninterested in his or her reputation, but rather because they "don't often know what's being said about them online," he said. "And this can lead to a lot of problems down the road."
Marketing Specialists for Plastic Surgeons is focused on a client-centric marketing approach, and this shows in everything from creating multiple streams of new clients, to retaining existing clients and being certain that their practices are positioned to not just survive but prosper in any economic conditions.
About Marketing Specialists for Plastic Surgeons:
Florida-based Marketing Specialists for Plastic Surgeons is a company directly involved in developing marketing techniques for both the cosmetic and plastic surgery industries. The company is owned and operated by Craig Stephens.
For further information please contact: Craig Stephens, President, 305-879-5631, or visit the site:marketingspecialistforplasticsurgeons.com.