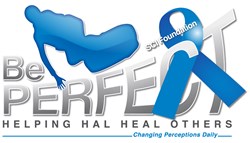 Hal makes our community better and inspires others to get involved.
Upland, CA (PRWEB) October 16, 2013
Hal Hargrave Jr. is one of just 16 Community Hero Award winners selected from across the country by Safeco Insurance to be in the contest. Your support could help him come out on top in an online voting event that will give $10,000 or $5,000 to the charities represented by the top three heroes with the most votes.
Safeco Insurance already has donated $5,000 to Be Perfect Foundation on behalf of Hargrave and Brad Kessler, president at Kessler Alair Insurance Services, Inc. in Upland, who nominated Hargrave for the award.
"Hal makes our community better and inspires others to get involved," said Kessler.
Safeco Insurance Community Hero Awards, honor hometown heroes and nonprofit organizations that have a positive impact in education, health and safety, or civic engagement, and the award program supports the community involvement of independent insurance agents across the country.
The Vote for your favorite Safeco Insurance Community Hero event ends 10 a.m. PST Nov. 4. To participate, click on the Safeco Community Hero ad on the home page of http://www.Safeco.com or click on the Community Hero tab on the Safeco Insurance Facebook.
Six years ago at the age of 17, Hargrave was looking forward to playing baseball and studying business at Cal State University in Long Beach. But a truck accident altered his life forever, leaving him with a broken neck, a spinal-cord injury and only a 1 to 3 percent chance he'll ever walk again.
Undaunted, Hargrave decided to help others while fighting his own battle and founded the Be Perfect Foundation — a nonprofit that works to restore hope and advance the independence of spinal cord injury victims, as well as provide scholarships to those who need financial assistance with supplies and rehabilitation costs.
Just one year after his accident, Hargrave both created and coordinated the organization's first fundraiser, bringing in $250,000 for those affected by spinal-cord injuries.
"You can't live a perfect day until you do something for someone who will never be able to repay you." ~ John Wooden
About The Be Perfect Foundation
The Be Perfect Foundation is an idea Hargrave had during his stay at Casa Colina after his traumatic injuries. During his recovery at Project Walk Spinal Cord Injury Recovery Center and Casa Colina, Hal had been exposed to many spinal cord injury victims that did not have the financial means to cover all costs for Acute Care and Recovery. Hal was fortunate to be covered by insurance on some level, but for many spinal cord injury victims there remains expenses that go beyond what many can afford!
To learn more about how you can support the Be Perfect Foundation, please visit http://www.beperfectfoundation.com or to vote for Hargrave, visit http://www.safeco.com.